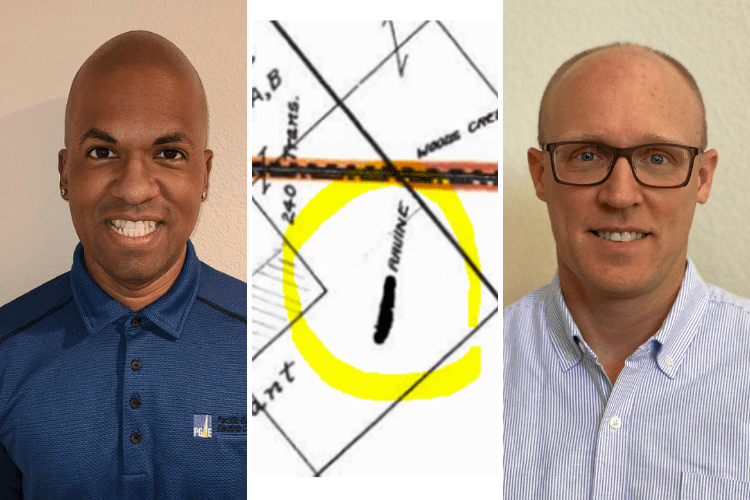 Speaking Up: Removing Racially Offensive Language in Old Documents
By Ali Flowers and Tony Khing
Darren Miles reviews many maps and grant deeds from customers as a PG&E land agent. But one day two years ago, the six-year coworker saw something which greatly offended and upset him so much that it caused him to stop work for the rest of the day.
Miles came across a map and a grant deed drawn up by a PG&E customer in 1906. The map contained racially offensive language to describe a ravine and the grant deed had racially restrictive comments.
Racially restrictive covenants have existed since the first laws restricting land ownership to White males were passed in the 17th century. Despite the passage of time, the vestiges of these laws still remain. They're so far reaching that our coworkers come across instances of them today.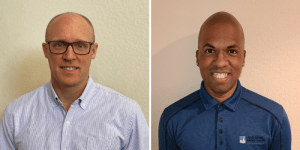 Donald Kennedy (left) and Darren Miles.
"Am I the only person who has seen something like this?" said Miles to himself. "Does a protocol exist for addressing this sort of thing, or am I just expected to deal with it?"
The next day, Miles contacted his supervisor, Land Acquisition Manager Donald Kennedy, and told him what he found. Like Miles, Kennedy was shocked by what he heard and saw.
Kennedy began to wonder, "What was Land Management's perspective on this? How were they going to treat something designed to target members of the service area and some of our employee base?"
Kennedy escalated the situation to upper management. He found out there were no existing standards on how to deal with racially offensive language within Land Management. In addition, it was unclear what coworkers had to do when they came across this language.
Kennedy reached out to PG&E's Enterprise Records and Information Management (ERIM) Department and the Strategic Allies Leading Transparency (SALT) Task Force to consider next steps.
With the support of his leadership, Kennedy created a team to find a solution. The group included the SALT Task Force, Miles, Tiffany Mizuno from the Law Department and Land Rights Supervisor Kathy Harper.
The team's first step was education. The group gave a presentation to Land Management on what to do when coming across offensive language in PG&E records, presenting the history behind racially restrictive covenants in the United States, their lasting impact, as well as the legal changes over the years.
Next, the group determined the immediate focus would be on identifying grant deeds. A letter was drafted to notify customers their grant deeds may contain offensive language and the ways to have it removed.
Finally, the group created an internal communications process which included an internal guideline document for Land Management coworkers to help them report offensive language. Kennedy and Harper also volunteered as subject matter experts to address customer requests for additional information.
By speaking up, Miles and Kennedy not only eliminated the problem for future land agents, but demonstrated how the company delivers for our hometowns by showing respect for our customers and coworkers, and leading with love.
Email Currents at currents@pge.com