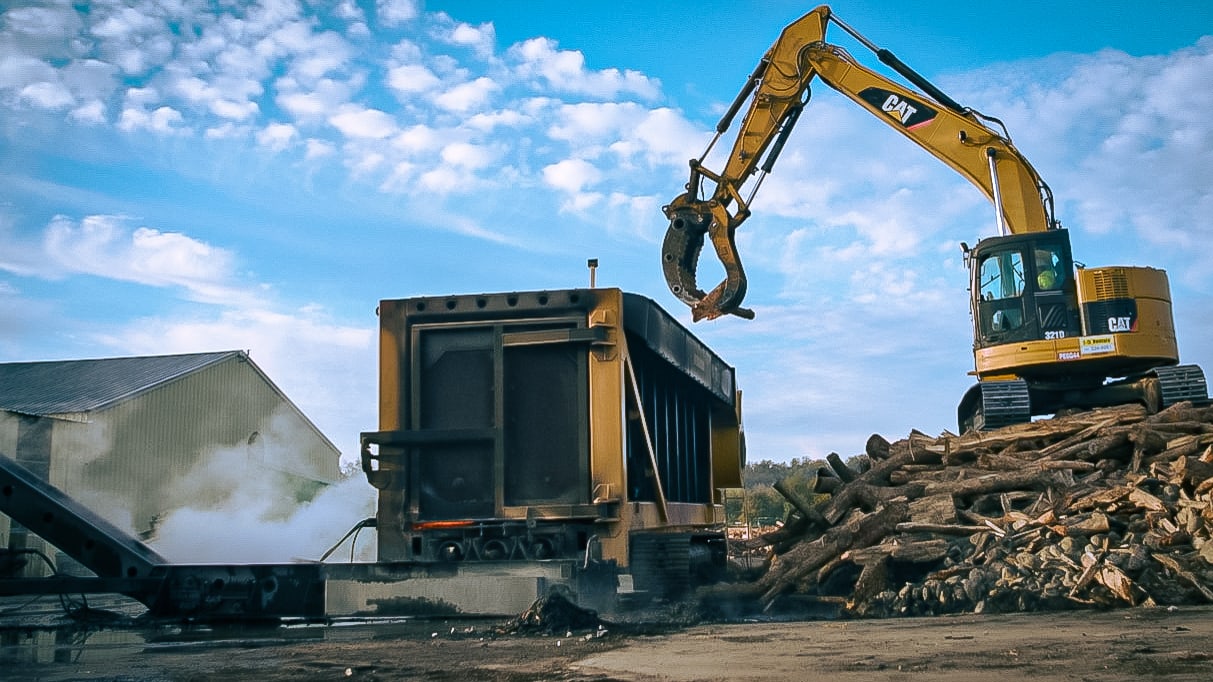 PG&E Demos 'Carbon Negative' Biochar Tech for Cleaner, More Affordable Wood Management
Join us and spread the word to your community
By Benjamin Spillman
A recently concluded technology demonstration in the northern Sacramento Valley could lead to a safer, cleaner, and lower cost method for PG&E to dispose of wood waste.
The demonstration – conducted at Anderson Biomass near Redding – tested the viability of using specialized equipment to convert wood waste into a marketable product that can save money for our customers, reduce PG&E's carbon footprint and improve safety.
The product, called biochar, is a charcoal-like substance that's created by carbonizing wood waste by burning that wood in large, mobile combustors at temperatures between 1,300-1,500 degrees.
The process reduces the volume of wood waste by about 90 percent, while creating biochar, a product that's finding a growing number of uses from livestock feed additive to soil amendment to stormwater remediation and soil toxin remover.
Since PG&E's vegetation management crews work enough trees to generate as much as 1 million tons of wood debris in 2023 alone, the combustors could be an important tool for managing waste safely and efficiently while helping achieve ambitious climate goals.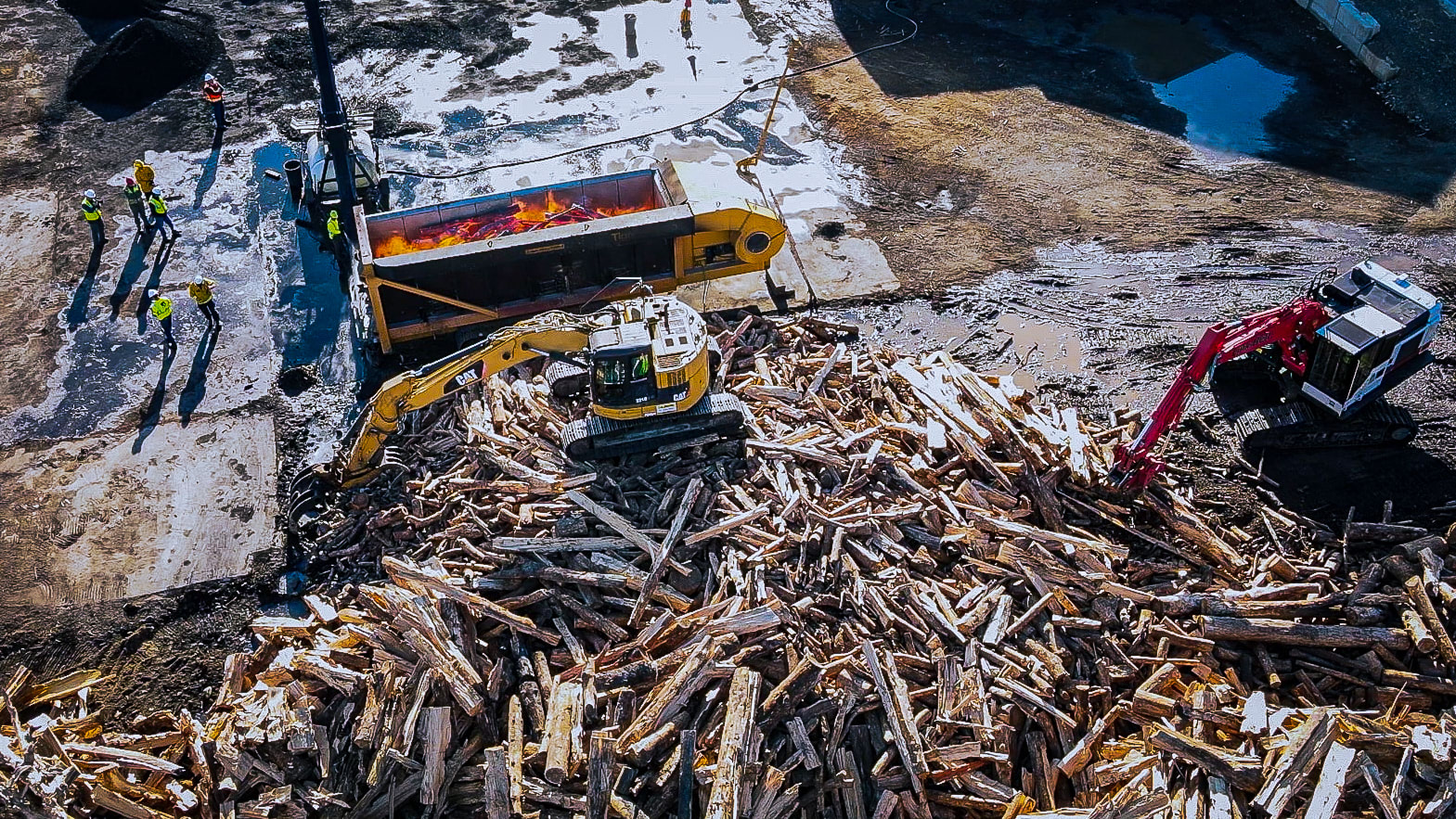 People, planet, prosperity
"By leveraging this technology and other methods of wood-debris management we are making it safer, more affordable and supporting a healthy environment," said Peter Kenny, senior vice president of Major Infrastructure Delivery. "This is a great example of delivering on our triple bottom line that aligns with our True North Strategy."
The combustors operate with a curtain of air blown across the top of the combustor that captures smoke from the burning and feeds it back into the fire box, resulting in both enhanced fire containment and reduced local criteria pollutants from resulting smoke that would otherwise degrade local air quality.
In fact, during the operation of the experiment from Nov. 7 through Dec. 1, more than 1,000 tons of wood debris were converted to 80-plus tons of biochar. The conversion process chemically locked in place for hundreds to thousands of years more than 200 tons of carbon dioxide which otherwise would have cycled back to the atmosphere to further warm the climate. That carbon-locking dynamic gives this work the distinction of being "carbon negative."
"This kind of technology could be transformative for California's climate fight," said PG&E strategic analyst Kevin Johnson. "As forest management efforts ramp up across the state hazardous biomass which might have fueled or ignited catastrophic fires can instead be transformed into a long-term carbon sink."
The experiment itself is a cross-functional collaboration between PG&E's wood management team in the Vegetation Management organization, the Utility Partnerships and Innovation Organization, which is funding the project through the Electric Program Investment Charge (EPIC) (a CPUC-regulated research and development program), and the gas organization, which is interested in the potential for biochar and other wood densification techniques to enable more cost effective renewable natural gas and hydrogen production.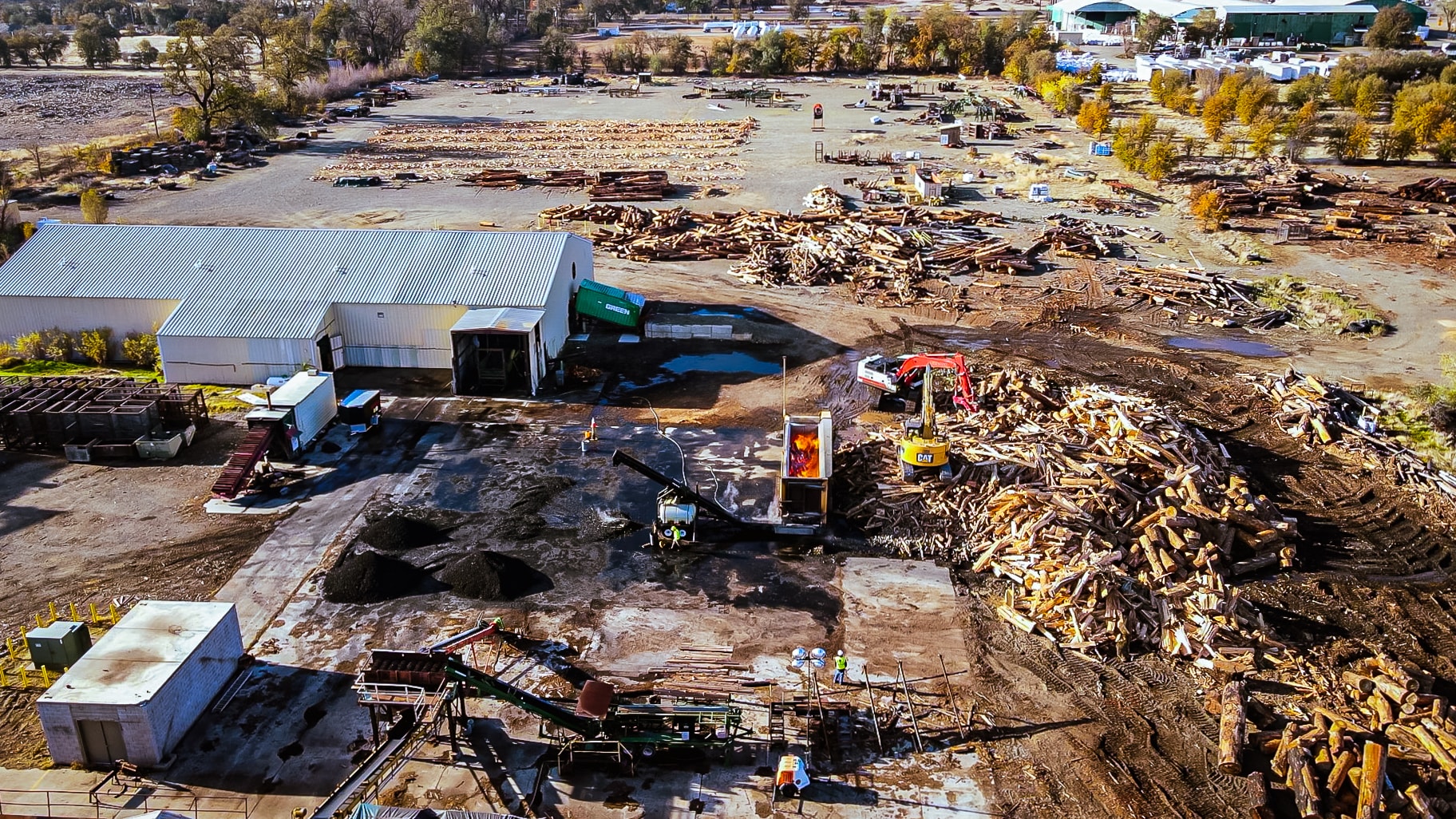 Easier to move machine than wood
In addition to the potential to boost PG&E's climate goals, the process could become a valuable tool to make wood management safer for coworkers and the public.
The mobile machinery, which significantly densifies bulky and heavy wood, can be moved close to where abundant wood is sourced, drastically reducing the amount of truck traffic needed to haul debris away to a yard for processing. Reducing vehicle miles lowers the risk for motor vehicle incidents and the potential for serious injuries.
"These changes support our stand that everyone and everything is always safe," said Mike Seitz, vice president of Vegetation Management.
In addition to potential savings through efficiency and climate credits, the process has the potential to further offset costs through the marketing of biochar.
Biochar is emerging as an environmentally friendly product that can help soil retain moisture and nutrients for agriculture, be used for managing stormwater and to remove toxins from polluted sites.
The biochar from PG&E experiment will be used on a non-profit organic farm and a university research farm, both in the Sacramento Valley.
Moving beyond demonstration
PG&E is now helping air curtain burners to become more established in Northern California, starting with planned wildfire cleanup projects. Outreach to regulators has increased awareness, which in the future could help ease permitting and deployment. PG&E contractors have recently purchased units for their own operations.
While air curtain burners represent immediate opportunity, Vegetation Management is set to trial other complementary early-stage wood management technologies in 2023. By de-risking such promising technologies, PG&E has the opportunity to operationally improve while also advancing the state's collective ability to tackle catastrophic wildfire risk.