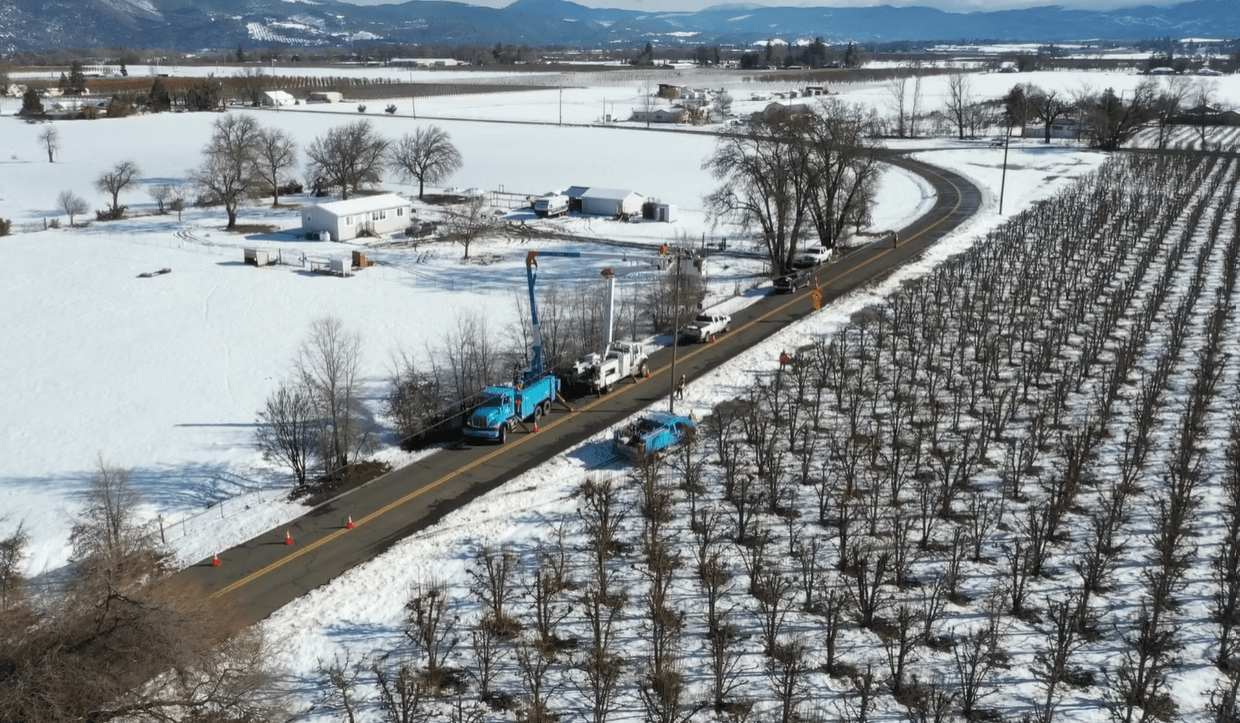 Lake County Update: PG&E Restoration Efforts, Community Support
Update February 26 (9 PM)
As PG&E crews continue to work to assess damage and restore service to customers in Lake County after last week's winter storms, a new major storm system is expected to hit the area on Monday, February 27. Crews will continue to work around the clock as the storm moves through the area.
As of 8 p.m. on Sunday, February 26, approximately 2,645 customers remained without power in Lake County. The storm is expected to peak around midnight and continue into Monday morning.
"Crews are out assessing damage and patrolling the areas, and wherever they can make it safe and reenergize up to certain points where we can isolate the damage. In these kinds of conditions with the icy roads and the snow, the crews are making sure they're being safe, and at the same time they have the mindset of doing everything they can to restore our customers," said Ron Richardson, the Regional Vice President for the North Coast Region. Watch the video below.
Currently, hundreds of PG&E personnel and contractors are on the ground restoring customers in PG&E's Humboldt Division which includes Lake, Mendocino and Humboldt counties. That includes 88 four-person electric crews, 26 Tmen (PG&E's first responders), 45 inspectors and 53 personnel assuring public safety at job sites. Additionally, there are 138 vegetation-management workers removing trees and limbs from powerlines on duty in the Humboldt Division.
Lake County Warming Centers
As of Sunday, February 26, there are six county-run warming centers in Lake County available to support vulnerable customers:
Kelseyville Senior Center at 5245 3rd Street, Kelseyville, CA 95451
Habematolel Community Center at 9470 Main Street, Upper Lake, CA 95485
Lucerne Alpine Senior Center at 3985 Country Club Drive, Lucerne, CA 95458
Little Red Schoolhouse at 15780 Bottle Rock Road, Cobb, CA 95426
Lower Lake Town Hall at 16195 Main Street Lower Lake, CA, 95457
Old Juvenile Hall at 1111 Whalen Way, Lakeport, CA 95453
PG&E has provided each of the warming centers with 200-300 grab-and-go bags, which include a blanket, water, snacks and a portable cell phone charger.
Additionally, PG&E has provided generators to the Kelseyville Senior Center and Old Juvenile Hall facilities.