All in a Day's Work for T-Line Crew That Loves Getting Dirty and Keeping Customers Safe
On a bright and crisp March morning, Joey Cortese and Chuck Williams boarded a boat for their usual Bay Area commute.
But this vessel was no comfy ferry with soft seats and snacks, gently plying the waters between the East Bay and San Francisco. Rather, it was a decidedly unglamorous, 590-horsepower AirRanger airboat.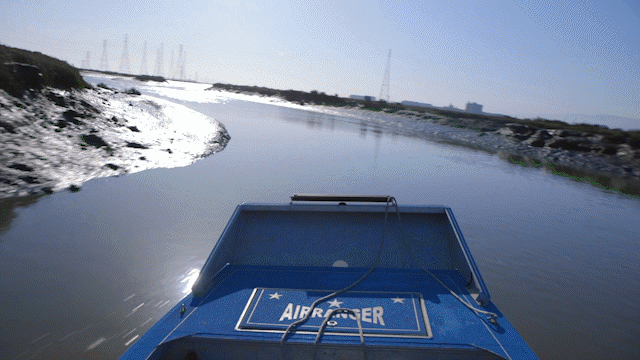 As the boat roared to life at the Port of Redwood City, the PG&E transmission-line maintenance and construction towermen geared up for a day inspecting tower foundations in the San Francisco Bay, and all the unknowns that come with that job—from shifting tides and chest-deep mud to fickle weather and unpredictable wildlife.
Few jobs at PG&E require such a delicate balance of so many factors, and just 20 employees—0.087 percent of the company's 23,000-person workforce—are qualified to perform it.
In their hands, the PG&E Bay Water Foundations Inspection team's crews hold the fate of a 505-tower transmission system that carries three 230-kv lines around and across the bay, from San Jose in the south to Vallejo in the north, and Orinda in the east to San Rafael in the west. What's at stake? The safety and reliability of an electric system that serves millions of people in one of the country's most economically vital regions.