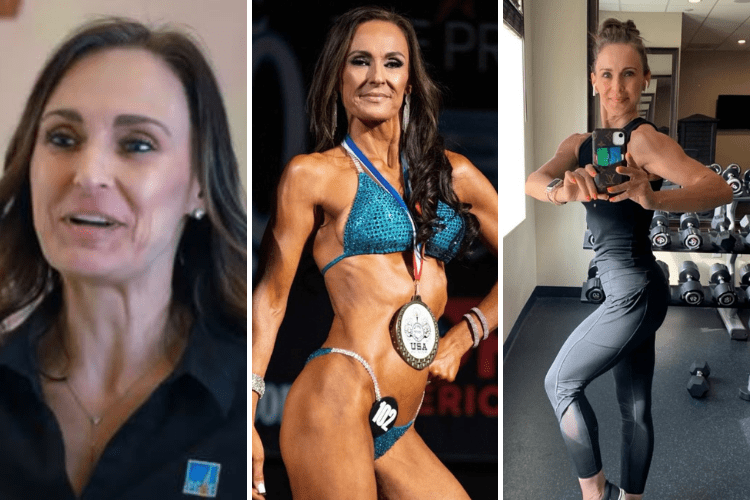 PG&E Coworker Trains for Bodybuilding Competition, Her 50th Birthday Bucket List Goal
By David Kligman
Some people who turn 50 celebrate with a getaway vacation. Others may opt for something more daring like skydiving. PG&E coworker Michelle Brasuell's bucket list for her milestone birthday was entirely different — entering a bodybuilding competition.
Brasuell took eight months to prepare for the contest in Sacramento. Prior to embarking on her current fitness journey, she described herself as "health conscious and somewhat healthy." But to be competitive would require months of consistent training, following a strict macro diet and the mental discipline to stick with her workout routine.
The mother of four children (ages 26, 24, 20 and 18) belonged to a gym near her home in Lodi, took spin classes but had never lifted free weights. She hired a trainer and joined a fitness group.
Soon she was working out nearly every day, at first for three hours a day. Her regimen included machine weights, free weights, spin classes, walking on a treadmill and yoga. She drank a gallon of water a day and logged all her foods — fats, carbs and proteins.
Brausell acknowledges this type of workout isn't for everyone, especially those approaching 50. But she said it fits her personality as an overachiever.
"I've always been very driven and very goal focused," she said. "I think some people are just born that way. It's just innate in me and I can't tell where it comes from. All I know is that I've always been that way and I need to stay active."
Medical diagnosis interrupts training
Five months into her training, she hit a stumbling block. She was fatigued to the point that she could barely get out of bed.
"It felt like weights were on my ankles," she said.
Bloodwork revealed she had Hashimoto's disease, an autoimmune disorder caused by an underactive thyroid that can be fatal if not treated. Brausell began medication that she will now have to take the rest of her life. But she said she was grateful to learn the diagnosis because she might have ignored the symptoms had she not been training.
"It's so key to listen to your body, to clue into the symptoms and to take action," she said.
Three days after first taking her medication, she was feeling better and cleared to continue her workout journey.
She attributed 80 percent of her transformation to her diet (a typical dinner is a chicken breast, two cups of roasted broccoli and a baked potato). The rest, she said, is due to regularly exercising that added muscle mass. When she began working out, the 5-foot-2 Brausell said she could only deadlift 50 pounds; now she can lift 150 pounds.
Her family and coworkers supported her the entire time. Brausell began her PG&E career 20 years ago at the Sacramento Call Center. Today, she's one of two managers who oversee contractors helping non-residential business customers save energy and money using on-bill financing.
Brausell also is a PG&E Wellness Champion for her team of 20 in Electric Operations. She regularly encourages coworkers to start their own fitness challenges.
The competition
Finally, last November after nearly eight months of training, she took the stage at the Crest Theater in Sacramento. One of her children was there, along with two PG&E coworkers to cheer her on. Contestants are judged on their overall physique, poise and presence.
Brausell finished second in the Master 50+ category and third in a category for first-time contestants. She said aside from giving birth, it was the best day of her life. She was so energized that she's training for her next competition on Aug. 12 in Lake Tahoe. She's also in the running for a fan vote with the winner appearing on the cover of Muscle & Fitness Hers magazine.
For those thinking they could never do what she did, Brausell says it's never too late to get healthy. It just takes commitment. She recommends drinking more water, walking 10,000 steps a day (about five miles), eating one gram of protein per kilogram of body weight per day, reducing or eliminating sugar, getting seven to nine hours of sleep a day and minimizing stress. Also: Take stairs instead of the elevator and park farther away to get extra steps.
Said Brausell, "It's pretty incredible how you can transform and manipulate your body with diet and exercise."
***
Coworker resources for getting healthy!