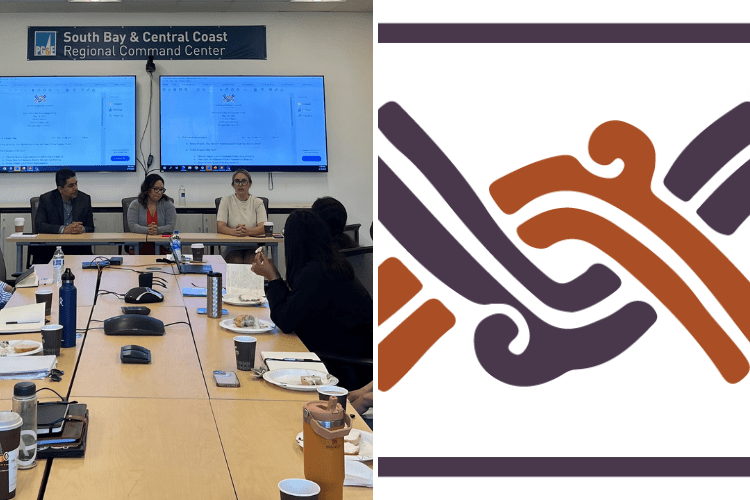 PG&E Hosts Emerging Latino Leaders at Regional Command Center in Morgan Hill
PG&E leaders from the South Bay/Central Coast Region recently hosted the Latino Leadership Alliance's 2023 leadership academy participants at our Regional Command Center in Morgan Hill for a full-day civic engagement session.​​​​​​​
Participants in the Latino Leadership Alliance (LLA) leadership academy are selected in a competitive application process and must commit to participating in intensive full-day leadership training seminars presented by business, education, political, and community/nonprofit leaders from February through September to amplify the voice and expand the power of Latino leadership in Silicon Valley.
​​​​​​​PG&E's Marco Rios, senior manager of electric transmission planning, Christina Ramos, local government affairs representative for Santa Clara County and former LLA fellow, and Mayra Tostado, regional communications lead, participated in a PG&E panel where they spoke to the fellows about their journey at PG&E, how they serve their hometowns, and the hurdles they overcame to step into leadership roles.
​​​​​​​​​​​​​​"As a Latino engineer who is helping build the grid of the future, I value the opportunity to bring my voice to the table as we make decisions on investments and long-term planning for electric reliability and efficiency," said Rios. "I encourage every Latino to seize and seek opportunities, work hard and celebrate the differences that fuel our contributions at work and in society."
"Bringing my true self to work allows me to leverage my Latino heritage as a source of strength to serve as a connector and advocate for our customers, especially in working with elected officials on issues or opportunities that impact our communities," said Ramos. "As an emerging Latina leader, I advise other Latinos to never stop learning, find a mentor and develop an invincible mindset to remain inspired and focused as you work toward your career goals."
PG&E has supported LLA through local charitable contributions and like LLA, PG&E leads with a commitment to putting equity and opportunity at the center of all we do.
"Collaborating with companies like PG&E, which serves millions of Latinos in California, is critical to supporting emerging Latino leaders who are helping shape and advance our business, government, education and nonprofit sectors in Silicon Valley," said Eddie Garcia, co-founder of Latino Leadership Alliance in collaboration with Sanford University Center for the Comparative Studies of Race and Ethnicity. "Giving back to the community and having a strong pipeline of local talent that represents the fabric of California is essential to ensuring Latinos continue to invigorate our communities, culture, and economy."
PG&E and the PG&E Corporation Foundation have a deep commitment to the safety and well-being of the communities we serve.
"The pulse of PG&E is the combined workforce of 25,000 individuals representing a wide range of diversity, including our large Latino customer base," said Teresa Alvarado, vice president of the South Bay & Central Coast. "Connecting with emerging leaders, like those in the LLA program, enables us to anticipate, understand and respond more effectively to the needs of our 16 million customers throughout the state."​​