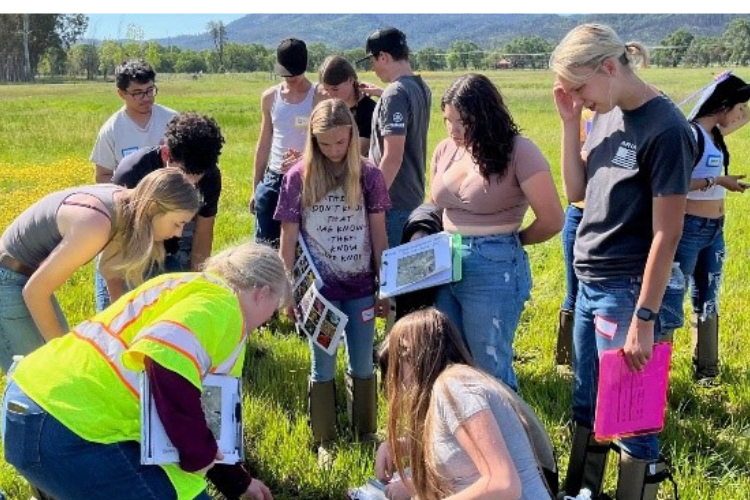 Lake County Students Become Biologists for the Day at PG&E's Former Geothermal Site
By Megan McFarland
Middletown High School agriculture and environmental science students put their pencils down and got their hands dirty as they participated in a dynamic learning experience at PG&E's former Geothermal Inc. landfill site. Through activities like dissecting owl pellets and conducting plant plot surveys, students had an opportunity to conduct biological monitoring activities similar to the work PG&E's scientists do as part of their ongoing monitoring and maintenance work at the site.
PG&E project manager Ken Simas and botanists Amy Hiss and Mona Robison recently guided 18 Middletown students on a hike through the former landfill site, where they learned how PG&E cleaned and converted the site from a former drilling waste disposal facility into a closed landfill and created wetlands and vernal pools as part of the surrounding 420 acres of wildlife habitat that offer sanctuary for a variety of flora and fauna.
Students then visited one of the on-site vernal pools, or seasonal wetlands, where they learned how to identify the dominant vernal pool, wetland, and grassland species and collect plant cover data, which are foundational ecological skills. Finally, students got their hands dirty dissecting owl pellets as a way to learn about some of the predators and prey that live in the area.
Middletown High School science teacher Patricia Garcia spoke of the impact of this program on her students.
"This hands-on experience gave my students the chance to use what they have learned in class in a real-world setting, demonstrating how they can turn their curiosity and desire to learn into a lifelong career," she said.
In addition to the tour and hands-on activities, the students had the opportunity to learn about the project team's diverse career paths and share their environmental and educational interests. PG&E representatives as well as Lake County District 1 Supervisor Moke Simon discussed how they decided what to major in college and how they ended up in their current role and provided one-on-one networking and college/career advice. 
"It was a rewarding experience connecting with these students and sharing our knowledge and experience to inspire them to follow their passions here in our community," the supervisor said. "Go Mustangs!"
This is the 10th year PG&E has partnered with Middletown High School to bring students out to the site. PG&E's continued investment in Middletown and its youth is part of the company's commitment to civic and community engagement in areas where it has ongoing monitoring of environmental remediation projects.
"Connecting with these students and getting them involved with the work we do in their hometowns gets to the core of what PG&E strives to do in all the communities in which we work," Simas said. "We want all Californians to live in prosperous and healthy communities, and the Middletown students got a chance to see how we all have a hand in making that a reality."