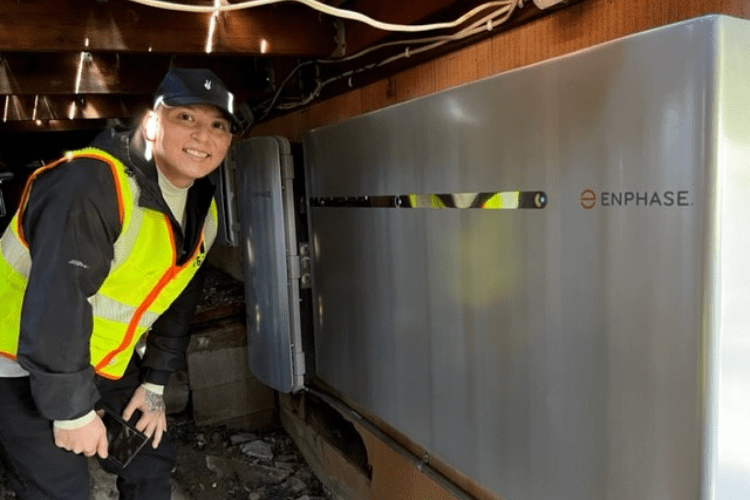 PG&E Backup Power Solutions Help Make Outages Invisible for Vulnerable, Frequently Impacted Customers
By Paul Doherty
PG&E connects thousands of new, behind-the-meter battery energy storage systems to the grid every month.
To date, more than 55,000 (mostly residential, but some business and government) electric customers have installed BTM battery energy storage systems connecting to the grid across PG&E's Northern and Central California service area, totaling more than 500 MW of capacity.
Some of these customers have medical needs or are considered critical facilities requiring around-the-clock power; many are in high fire risk areas or are more frequently impacted by power outages as a result of Enhanced Powerline Safety Settings, for example.
Since 2020, PG&E has offered backup power programs and services, which have grown and evolved to meet customer needs over the past four years.
"PG&E offers support for customers through a range of portable and permanent — or fixed — backup power solutions, and we have expanded our offerings over the years to ensure that our most vulnerable and most impacted customers — including schools and those who need power for lifesaving medical equipment — can easily determine what's best for their needs," said Vitaly Tyurin, director of Customer Generation & Storage for PG&E.
When PG&E began offering customers backup power solutions in 2020, it was largely through the Self Generation Incentive Program, PG&E's Portable Battery Program and through its partnership with the California Foundation for Independent Living Centers, which offers the Disability Disaster Access & Resources program.
PG&E has since expanded the customer eligibility rules and established additional partnerships and today, PG&E's offerings incorporate:
PG&E's Portable Battery Program provides backup batteries to lessen the impact of a Public Safety Power Shutoff (PSPS) or EPSS outages on customers who rely on medical devices, assistive technology and durable medical equipment.
Through its Generator and Battery Rebate Program PG&E offers eligible customers a $300 rebate on the purchase of a qualifying product (generator or battery) to prepare for power outages. Customers who are enrolled in PG&E's CARE or FERA programs will receive an additional $200 rebate.
The Permanent Battery Storage Rebate program provides eligible customers a $5,000 rebate for the purchase of a qualified battery energy storage system to assist customers impacted by eight or more EPSS outages in 2022. 
Expansion of the Self Generation Incentive Program to provide rebates covering 85% to nearly 100% of the cost of an average battery energy storage system for eligible customers located in a Disadvantaged Community, high fire-threat area, or who've experienced multiple PSPS events.
Partnering with Richard Heath & Associates on the Residential Storage Initiative, through which PG&E is providing battery energy storage systems at no cost to hundreds of medical, income-qualified, and otherwise vulnerable residential customers who have been frequently impacted by outages as a result of EPSS. 
PG&E launched a pilot providing additional resiliency support for K-12 schools that have been frequently impacted by EPSS outages. This pilot includes several initiatives such as providing school resiliency assessments, installing permanent automatic transfer switches, and offering back-up generator rebates.
PG&E has successfully developed a first-of-its-kind personal backup power transfer meter device for customers that fully integrates into PG&E's existing electric SmartMeter system. The device provides customers with a safe, easy-to-use and more reliable solution for interconnecting backup power sources, such as portable generators, batteries, and qualified electric vehicles, to power essential devices and appliances during a power outage. PG&E has installed nearly 3,000 backup power transfer meters for customers in high-fire risk areas since program inception and plans to install thousands more in the coming years.
"EPSS has dramatically reduced ignitions and provides a key layer of protection to keep our communities safe," Tyurin added. "While that may result in more frequent outages for some customers, our goal — through our expanded backup power offerings — is to make those outages invisible."
For more information about the programs and resources to support the energy needs of residential customers, communities and government and business customers visit PG&E's Community Resilience Guide at www.pge.com/resilience