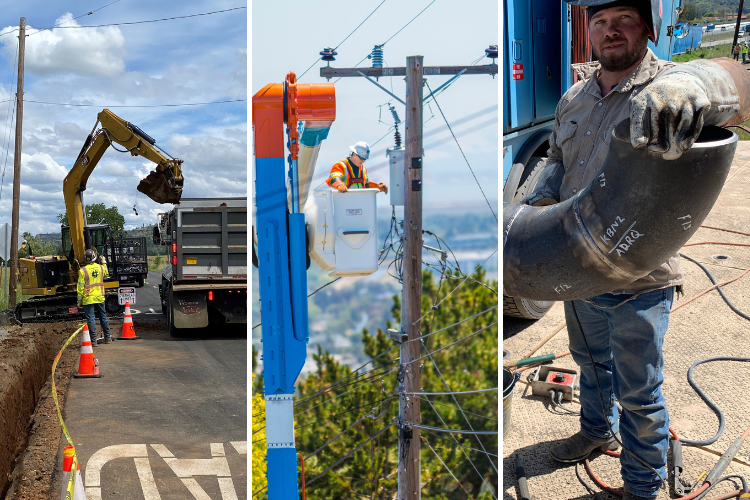 PG&E Comments on CPUC Proposals in 2023-2026 General Rate Case
The California Public Utilities Commission (CPUC) issued a Proposed Decision (PD) and Alternate Proposed Decision (APD) on Wednesday (Sept. 13) (collectively referred to as "the PDs") in PG&E's 2023-2026 General Rate Case (GRC). PG&E's GRC proposal would fund critical investments for its customers to further reduce wildfire risk, improve safety and climate resiliency, and support the continued growth of clean energy.  
The PD authorizes PG&E to recover $1.6 billion more in customers' rates in 2023 than in 2022. The APD authorizes $1.1 billion more than 2022 amounts. PG&E is analyzing the PDs to determine the potential impacts to its customers.
The CPUC requires PG&E and other investor-owned utilities to submit a GRC proposal every four years to determine fair energy rates based on the cost of operating, maintaining and improving the safety and reliability of the company's electric and natural gas systems.
"We are dedicated to making it right and making it safe for our friends, families and neighbors. We look forward to working carefully with the Commission and all stakeholders to arrive at a final decision that is in the best interest of our customers and supports California's bold plans to transition to a safer and cleaner energy future," said Carla Peterman, PG&E Corporation Executive Vice President, Corporate Affairs and Chief Sustainability Officer. "As the two proposed decisions demonstrate, this GRC is complicated and complex. While the proposed decisions support some important programs, they fall short in funding critical wildfire mitigation, gas safety and reliability programs that benefit our customers and hometowns."
Critical wildfire, gas safety and reliability programs benefiting customers that would be impacted by the reduced GRC PDs include: 
Undergrounding Program — Both PDs significantly reduce undergrounding mileage for 2023-2026 from 2,100 miles to 200 miles (PD), and 973 miles (APD). Undergrounding powerlines reduces wildfire risk by nearly 98% and permanently eliminates some of the annual costs for vegetation management and overhead line maintenance along the undergrounded segment. It also reduces weather-related damage, for improved reliability and resiliency. By comparison, installing covered conductor as a wildfire safety measure reduces wildfire risk by less than 65% by itself. PG&E's proposal for undergrounding's incremental (year-over-year) bill impact to the typical residential electric customer would be less than $0.50/month in 2023, $1.70/month in 2024, $2.05/month in 2025, and $2.55/month in 2026, or about $3.40 additional on the average customer's bill for 2023-2026.
Public Safety Power Shutoffs (PSPS), Enhanced Powerline Safety Settings Programs (EPSS) — The PDs reduce funding for PSPS by 27% and cut EPSS by 42%, including the cost to restore power to customers safely and as quickly as possible. PG&E proactively shuts off power during severe weather to keep customers safe, as a tool of last resort. Enhanced safety settings, which turn off power within one-tenth of a second or less if a wildfire threat is detected, are a proven wildfire prevention tool. In 2022, PG&E saw a more than 68% reduction in CPUC-reportable ignitions on EPSS-enabled lines in High Fire-Threat Districts (compared to the 2018-2020 average).
Gas Safety Programs —The PDs substantially reduce funding for the gas transmission in-line inspection program, which is the most reliable pipeline integrity assessment tool currently available to natural gas pipeline operators to assess the internal and external condition of transmission pipeline. The PDs also reduce the steel pipe and plastic pipe replacement programs, key risk mitigation programs that replace aging steel and plastic gas distribution pipelines to help keep customers and communities safe, by 35% and 24%, respectively, in 2023. The PDs eliminate all funding for the pipeline overpressure protection program, which protects against the risk of large overpressure events on the system.
 Investing in safety improvements, programs to benefit customers
PG&E's GRC proposal focuses on continued safety improvements for its customers and hometowns. More than 85% of its proposed increase in revenues would be applied to reducing risk in gas and electric operations, urgent investments in the face of escalating extreme weather including record-breaking heatwaves, an emerging megadrought, and devastating wildfires.
PG&E's GRC proposes work to sustain the company's gas safety performance, now among the industry's best. It also proposes programs to build upon proven layers of protection including inspections, physical hardening, undergrounding as permanent risk reduction, Enhanced Powerline Safety Settings, Public Safety Power Shutoffs, and improved situational awareness and response. These programs have mitigated 90%[1] of wildfire risk caused by the company's equipment, and are on track to mitigate over 94% of the risk in 2023.
PG&E's proposal also would fund increased electric capacity to support the state's transportation electrification, affordable housing and economic development goals. 
Ways PG&E is lowering customer costs 
While these actions will make its customers safer for generations to come, PG&E also understands the impact of any rate increase on its customers. PG&E is committed to completing this critical safety work as strategically and cost-effectively as possible.
The company reduced operating costs by 3% in 2022 and expects to achieve an additional $370M in cost savings in 2023 by reducing vegetation management costs through improved standard work practices and quality controls (while still meeting compliance and customer commitments), and by reducing undergrounding costs through innovations in construction methods, improvements in design and efficiencies in execution.
PG&E has also worked with customer advocates to create an alternative to commercial insurance which will save customers up to $1.8 billion over the next four years. The company also is seeking to access non-traditional sources of financing, such as lower-cost Department of Energy loans, which could reduce the company's borrowing costs by hundreds of millions of dollars over the life of the loans. 
Next steps for GRC  
The GRC PDs have no impact on current customer rates and bills, and there will be no rate adjustments associated with the GRC until after the CPUC issues and approves a Final Decision.  
PG&E will continue to keep customers informed about changes to the cost of providing their energy service. 
[1] Based on the methodology established by the CPUC in the Safety Model Assessment Proceeding and implemented by PG&E, accordingly.