All in a Day's Work for T-Line Crew That Loves Getting Dirty and Keeping Customers Safe
By Jennifer Robison

On a bright and crisp March morning, Joey Cortese and Chuck Williams boarded a boat for their usual Bay Area commute.
But this vessel was no comfy ferry with soft seats and snacks, gently plying the waters between the East Bay and San Francisco. Rather, it was a decidedly unglamorous, 590-horsepower AirRanger airboat.
As the boat roared to life at the Port of Redwood City, the PG&E transmission-line maintenance and construction towermen geared up for a day inspecting tower foundations in the San Francisco Bay, and all the unknowns that come with that job — from shifting tides and chest-deep mud to fickle weather and unpredictable wildlife.
In their hands, the PG&E Bay Water Foundations Inspection team's crews hold the fate of a 505-tower transmission system that carries three 230-kv lines around and across the bay, from San Jose in the south to Vallejo in the north, and Orinda in the east to San Rafael in the west. What's at stake? The safety and reliability of an electric system that serves millions of people in one of the country's most economically vital regions.
The high-profile nature of the work is not lost on the crews.
"We're providing a service for so many customers in such a small and dense area, and there's a certain level of visibility that comes with that," said Chuck, who lives in Coarsegold (Madera County) but, like the rest of his team, commutes to T-line jobs from the South Bay to the Oregon border. "Where I live in the foothills, one transmission line might serve my entire town. There are three different transmission lines that feed the Bay Area."
Those assets — and the conditions they dwell in — are almost as diverse as the Bay Area itself.
'Focused on serving our customers'
The oldest bay towers were built over many decades, using different technologies of the 20 and 21 centuries. The tallest one, on the Peninsula near San Mateo, stretches 375 feet into the sky, with a concrete foundation as big as a three-bedroom ranch house.
The micro-environments the towers sit in are just as wide-ranging. They include open water, intertidal zones, marshes, seasonal wetlands and salt-evaporation ponds.
What the towers share are cement-cap foundations that sit on wooden piles driven deep below the mud to prevent sinking. And on that type of structure, riparian zones can wreak havoc.
Twice-daily tides slosh in and out, raising and lowering water levels by as much as eight feet and creating splash zones that can wash away stabilizing mud. Constant wetting and drying destabilizes concrete. Salty seawater erodes concrete and corrodes steel, and evaporator ponds for salt manufacturing make even harsher environments for the structures.
A generation ago, those environmental factors led to a failure that gave rise to today's rigorous foundation-inspections program.
In December 1995, two towers sitting in evaporation ponds on the Newark-San Mateo 230-kV line failed during a windstorm. Over several decades, the briny pondwater had eaten away at the concrete and reinforcing steel bars to the point that the foundation could no longer support the tower.
PG&E's then-Technological and Ecological Services team identified and inspected another 380 towers in evaporator ponds by 1997. Another 125 towers were identified as vulnerable to bay waters. PG&E put the towers on a regular inspection cycle. The Bay Water Foundation Inspection team will evaluate more than 200 of the towers in 2021 alone.
Feven Mihretu, a San Ramon-based engineer in T-Line Engineering Standards and Work Methods, helped develop the inspection forms, job aids and repair strategy from 2015 to 2018
 "It's like everything else that we do—focused on serving our customers," Feven said. "We want to make our customers happy, and we take a lot of pride in helping keep our system safe and reliable."
Keeping PG&E's system safe and reliable is where Chuck, Joey and the rest of the inspections team come in.
Mucking around
At sunrise, inspection crews begin rolling into the Fremont Materials Yard. They take a few minutes to grab their morning coffees, talk about the day ahead and do some light stretching—pulls, strains and sprains are their most common job hazard. Then they jump in their trucks, boats in tow, and set out for the Port of Redwood City.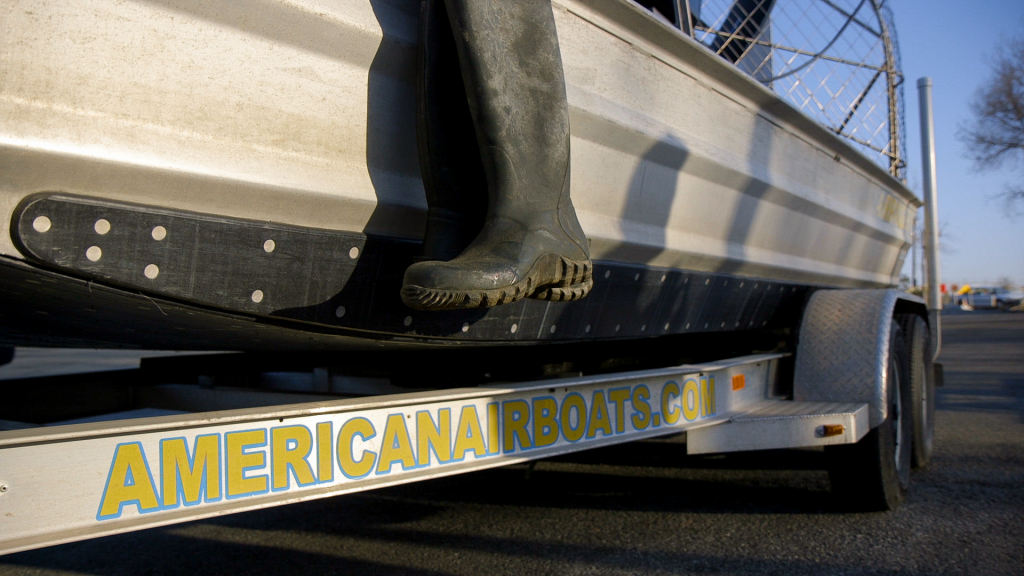 The team's jocular attitude belies the incredible planning it has taken to get to this morning. Many of the towers sit in wildlife refuges that harbor threatened species, so inspection timing is planned to avoid breeding seasons. Often, work must first go through environmental review and permitting. In some areas, crews must look out for hunters and fishers.
And then there are the tides. Time those wrong, and the whole effort could fall apart. About two years ago, the team invested in two airboats, which can skim mud and help the team avoid being stuck for hours in sloughs or wetlands. But any miscues on the lowest tides could affect crews' ability to inspect a foundation.
On this morning, at least, everything is just right, and work is ready to start.
The team holds its safety tailboard, going over proper procedures and pointing out kayakers and swimmers. They talk about looking out for each other, too.
"We're like family. We are with each other more than we're with our actual families," Joey said.
Once the tailboard wraps, they head for their destination, buzzing along the water as massive towers whiz by. Eventually, Joey steers the airboat into a muddy, grass-lined slough and parks it next to a secured boardwalk that accesses a line of towers. Chuck and Joey clomp along the boardwalk in waders as red-winged blackbirds sing in the distance and a soft breeze coaxes a gentle hum out of metal informational signs bolted to tower legs.
They find their inspection target and drop about five feet into mud, instantly knee-deep. They use six-foot metal inspection rods to test the concrete foundation below the mud.
These aren't the high-flying aerial and climbing assessments most envision when they think about T-line inspections—though Chuck, Joey and the rest of the team also perform those kinds of inspections.
'The part of the tower people don't see'
But in some ways, tower-foundation checks are the most important inspections the team handles.
"The foundation is the part of the tower people don't see," said Andy Montes, a construction supervisor for T-Line maintenance and construction along the Central and North coasts. "The tower itself can look fine, but there's a lot going on under the water. If a pile failed and a tower fell, it could cascade and take out several other towers and even parallel circuits."
Chuck and Joey test below the mud, feeling for gaps where water may have dissolved concrete. They visually inspect for cracks, scaling and staining, as well as steel corrosion or degradation of the resin that seals the joint where steel connects to concrete. Ideally, there's no gap between concrete and mud, nor any large cracks, that could expose wooden piles to water, air and rot.
When they find issues, fixes range from the simple, such as resealing deteriorated resin or re-pouring small amounts of concrete, to the complex, which could mean building a small dam around a foundation to divert water while repairs are made. If it's especially tricky, the team calls engineers to help with a plan.
Chuck and Joey don't find any issues this morning. They give the all-clear on the foundation they're working on, pull themselves from the mud and head toward the next job. They'll inspect as many as nine or 10 more foundations in one day. Each one checked brings its own reward.
"I love working outside and getting dirty," Joey said. "It's a good feeling to work on something with your hands and some tools, and to accomplish an important project. It's also interesting because it's a different scenario every time."
Andy said he's "amazed" every day at the towers—at how sturdy they remain; at how they've endured; at the enormity of the metropolitan area they keep online.
"It's challenging, but this work is our specialty," he said.
'A job well-done'
The towers will be part of the Bay Area's electric grid for years to come, and beyond these critical inspections, the Electric Asset Management team is planning additional methods to keep them safe and strong.
For example, PG&E engineers are evaluating how climate change might contribute to sea-level rise — and whether they'll have to design new, higher foundations, Feven said.
"We are confronting environmental and technical challenges head-on to keep these towers upright," she said.
Although safety and reliability are the team's priorities, affordability and efficiency also come into play in planning as well, said Michelle Sakamoto, a senior consultant on the T-Line Asset Management team.
"We want to protect and maximize investments in our assets," Michelle said. "It's like driving a car that you don't maintain. It will work for a while, but if you don't take care of it properly, it won't last as long. You could buy a new car when it quits working, but that's not really an efficient way to do things."
That means you can think of Chuck, Joey and the team as the essential mechanics who give the tower foundations their routine, 30,000-mile checkups.
The Bay Water Foundation Inspection team is already covering the safety, reliability and affordability bases.
"We are really grateful for all the work they do out there," Michelle said.
Countless customers are grateful as well — including five young customers ages two to 13 who live with their mom and dad in Coarsegold.
"When we're driving around down here, my kids will say, 'Dad, which one of these is your towers?' I always say, 'All of them,'" Chuck laughed. "It feels great to look at our work and know it was a job well-done. Having to travel away from my kiddos and my wife is the hardest part of my job. But knowing that we are part of something bigger, something really important, is definitely the best part of this job."
Email Currents at Currents@pge.com