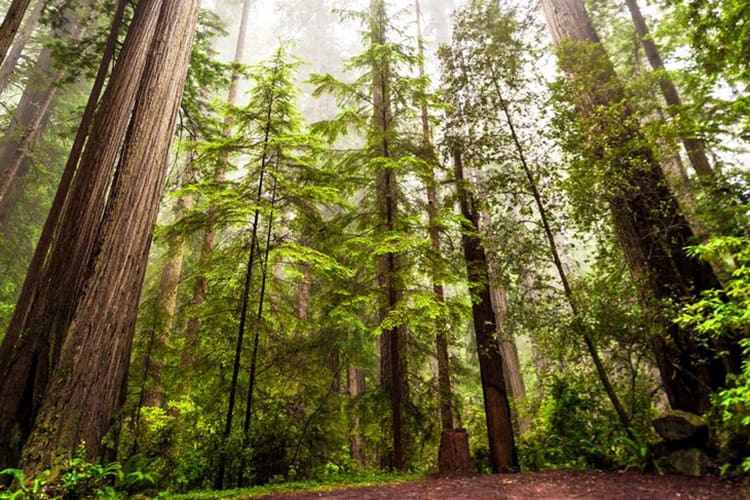 'Climate Positive' by 2050: PG&E's New Climate Strategy Report Outlines Targets and Milestones on Path to Net Zero Emissions and Beyond
By James Noonan
PG&E on Wednesday (June 8) unveiled breakthrough commitments to help reduce carbon emissions, reverse the impacts of climate change and heal the planet as part of its comprehensive Climate Strategy Report.
The report, which is available at www.pge.com/climate, outlines the company's path to become "climate positive," or going beyond net zero emissions and actively removing more greenhouse gases from the environment than it emits, by 2050.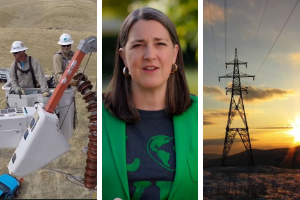 PG&E CEO Patti Poppe (pictured center) says PG&E's Climate Strategy Report is a bold plan to help undo the damage of climate change.
Along the way, PG&E plans to reach net zero greenhouse gas emissions by 2040, five years ahead of California's current carbon neutrality target, and has detailed clear milestones it plans to meet by 2030 in reducing emissions, adopting renewable energy, investing in clean transportation infrastructure and transitioning its natural gas system.
PG&E's 2040 and 2050 commitments represent a major step in delivering upon its stand that a healthy environment and carbon-neutral energy system shall be the reality for all Californians.
These commitments are also designed to ensure equity and inclusion remain at the forefront of California's energy transition by not only helping curb the devastating impacts of climate change felt by communities but also providing a pathway to a more equitable and affordable energy future.
PG&E is committed to partnering with a broad spectrum of stakeholders, including customers, coworkers and community organizations, to co-create plans that will help ensure equity, and to delivering on these climate commitments in a cost-effective way, with minimal incremental impact to customer bills.
"At first glance, meeting these milestones may look to be an extraordinary challenge. But extraordinary times call for extraordinary measures," said Patti Poppe, CEO of PG&E Corporation. "As recent events have made clear, California is not just on the frontline for acting on climate change but also on the frontline of its destructive effects. We can no longer be content with merely adapting to those harms. We need to put the climate machine into reverse and begin undoing the damage. This report represents PG&E's bold plan to do just that and will be our guiding document in the years ahead."
2030: Immediate climate action
PG&E recognizes that right now is a critical time for meaningful climate change action and is committed to doing its part.
PG&E has laid out plans to dramatically reduce emissions attributable to the company and its customers by 2030 — reductions from its operations and energy delivery (Scope 1, 2 and 3 emissions) equivalent to taking more than 3.2 million passenger vehicles off the road for one year. To drive this effort, the company has set targets that include:



Renewable energy adoption: By 2030, PG&E plans to have 70% of its electric power mix consist of state-eligible renewable resources such as wind and solar. This target exceeds the state's mandate of 60% for that same year and will be met in a way that is affordable to all.


Accelerate electric transportation: PG&E plans to be the industry's global model by fueling at least 3 million electric vehicles (EVs) in its service area by 2030 — leading to a cumulative reduction of at least 58 million metric tons of carbon emissions. Additionally, PG&E plans to prepare the grid to enable 2 million EVs to participate in vehicle-grid integration applications, allowing EVs to be a cornerstone of energy reliability and resilience efforts.


Building electrification and natural gas transition: PG&E plans to achieve 48 million metric tons of lifecycle carbon emissions reductions by 2030 through an increased focus on energy efficiency and building electrification. To support this goal, PG&E will be evaluating all gas capital projects for electrification alternatives and will pursue electrification for projects deemed feasible and cost-effective.


"Green" the gas supply for hard-to-electrify customers: By 2030, PG&E expects that renewable natural gas will make up 15% of the gas flowing through PG&E's pipelines to core residential and commercial customers, and the company is launching a pilot to maximize readiness for hydrogen blending. PG&E also plans to reduce cumulative carbon emissions by 2.5 million metric tons by proactively converting industrial and large commercial customers unable to electrify to cleaner natural gas.


2040 and 2050: Net zero emissions and climate-positive energy future
Building upon the 2030 goals, PG&E will work to achieve net zero greenhouse gas emissions by 2040 by eliminating or reducing emissions and then removing remaining carbon from the atmosphere. By 2050, the company plans to be removing more greenhouse gases than it emits.
As a dual commodity utility — both gas and electric — PG&E is uniquely positioned to lead this transition with customers at the center. PG&E's vision is to evolve the gas system to be an affordable, safe, and reliable net zero energy delivery platform. To make the transition, PG&E expects a diverse mix of resources to be available—from broad electrification to cleaner fuels such as renewable natural gas and hydrogen to nature-based solutions and carbon capture, storage, and utilization.
"We're excited about the opportunities to co-create this future together with our many stakeholders," said Carla Peterman, PG&E's executive vice president, Corporate Affairs and Chief Sustainability Officer. "Importantly, PG&E is focused on making this transition in an equitable and viable manner that leaves no one behind. We will continue to look for ways to prioritize support for disadvantaged and vulnerable communities and the workforce in a just transition to net zero and beyond."
Continued focus on climate resilience
In addition to establishing PG&E's net zero and climate-positive targets and milestones, the Climate Strategy Report reiterates PG&E's overall efforts to build an energy system that is resilient to the physical impacts of climate change. These efforts include data- and science-informed decision making, undergrounding 10,000 miles of powerlines in high fire-threat areas, and implementing Enhanced Powerline Safety Settings in those same areas. These efforts, which are also detailed in PG&E's Wildfire Mitigation Plan, demonstrate PG&E's commitment to live up to its stands that catastrophic wildfires shall stop and that everyone and everything is always safe.
Email Currents at Currents@pge.com.