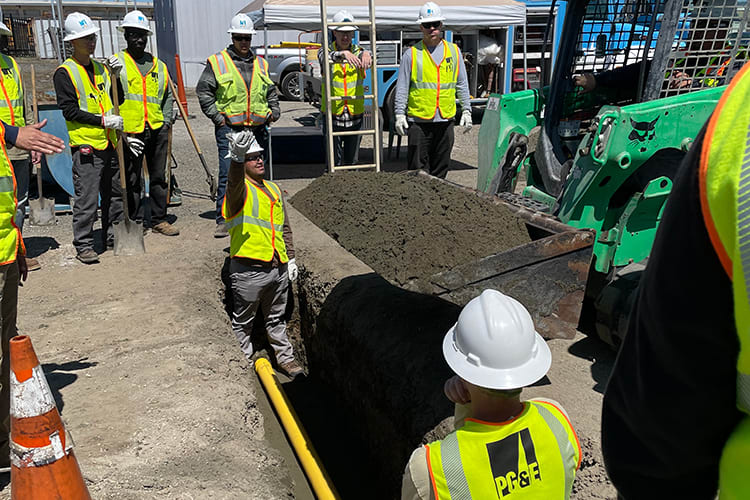 PG&E's PowerPathway: Still a Success After 50 Training Classes and More Than 1,100 Graduates
Joe Forline needed just five minutes to "fall in love" with PG&E's PowerPathway after learning about the nationally-recognized training program that develops the next generation of the utility industry workforce.
"I spend a lot of time in the field," said PG&E's senior vice president of Gas Operations. "There's always someone in the crowd who'll say they went through the program. Anyone who goes through PowerPathway has a higher probability of success than in any other career training program we have. Their track record is great."
Military veterans participate in PowerPathway's Entry to Gas Pipeline Inspector for Veterans cohort in Oakland.
Forline made these comments recently as PG&E celebrated the graduation of the 49th (San Jose Entry to Gas Operations) and 50th (Gas Pipeline Inspector for Veterans) cohorts. In 15 years, PowerPathway has trained 1,165 students, 70% of them diverse. Veterans make up 46% of the graduates and 11% are women. Through 2021, 83% of graduates have found employment at PG&E or in the utility industry.
"When I've been in the field, there's always a fellow union brother or sister who's gone through PowerPathway," said IBEW Local 1245 Senior Assistant Business Manager Anthony Brown, a third-generation PG&E coworker. "I've always been impressed with them as coworkers and by their stories and commitment to get themselves employed by PG&E."
Like Jermaine Eti, one of 20 graduates of the eight-week San Jose Entry to Gas Operations class. He applied for 60 PG&E jobs over an eight-year period. When Eti heard about PowerPathway from his wife (Hope, a PG&E coworker in Electric Operations), he applied and was accepted.
Jermaine Eti applied for nearly 70 PG&E jobs over eight years and then got accepted into the San Jose Entry to Gas Operations class.
Eti will be leaving his job as a supervisor at UC Davis and start in July as an IBEW 1245 Hiring Hall-traffic control flagger in Daly City for PG&E. Eti has applied for two permanent positions within PG&E.
"My wife thought it was a good opportunity to get a foot in the door at PG&E," said Eti. "She didn't know where it would take me, but I had no other options.
"This program has the student's best interests in mind," he continued. "They want you to succeed. They don't want to set you up for failure."
Then there's Jesse Vukelic, a six-year Navy veteran who left his job as an electronics technician to take the unpaid 10-week Gas Pipeline Inspector for Veterans training cohort along with 14 other veterans. He had been applying for PG&E jobs for four years. Vukelic applied for "everything under the sun"—meter reader, gas control technician and clerk, to name a few.
"I learned very quickly I enjoy being outside and working with my hands," said Vukelic, who had been sitting in a corner without windows working eight hours a day. "I knew PG&E was a great opportunity from my cousins, aunts and uncles who worked for the company. I also knew people who graduated from PowerPathway were highly successful in getting a job at PG&E and in their work. I wanted to be part of that."
Jesse Vukelic receives his PowerPathway graduation certificate from Program Manager Justin Real.
Following graduating in early June, Vukelic was placed with a PG&E contractor inspecting gas distribution and as-built construction projects. He and his fellow military veteran graduates were placed with contractors as pre-utility inspectors. By the end of the year, PG&E will hire 12 of the graduates permanently.
"I got a real idea of what work will be like when I start my job," said the former petty officer second class. "I learned more than what I could've imagined. This gives you the greatest chance for working at PG&E."
There are many reasons why PowerPathway has succeeded, but two considerations standout. First, PG&E's partnerships with community based organizations. The San Jose Entry to Gas Operations class couldn't have happened without support from work2future and Evergreen Valley College. Besides backing from PG&E's Gas Operations, the Entry to Gas Pipeline Inspector for Veterans was made possible with help from Swords to Plowshares.
"Our collaborations with community colleges, non-profit training centers and the public workforce development system are a major part of PowerPathway's success. We want to ensure our employment represents the communities we serve. By working with underserved communities, we also help lift people into the middle class," said Alex Baker, PowerPathway program manager.
Second, the training students receive from PG&E instructors.
"Our instructors talk about how rewarding it is for them to be part of these programs. It's an opportunity for them to give back their knowledge to folks who are absolutely dedicated to get an opportunity to work in these industries. It's clearly the most fulfilling part of their job," said PG&E Academy Senior Director Chris Pickett.
Eti strongly encourages those who are debating about registering for PowerPathway. "Go for it," he said. "The grind will never give you anything you don't deserve. Make the sacrifice. It will be rewarding."
Email Currents at Currents@pge.com