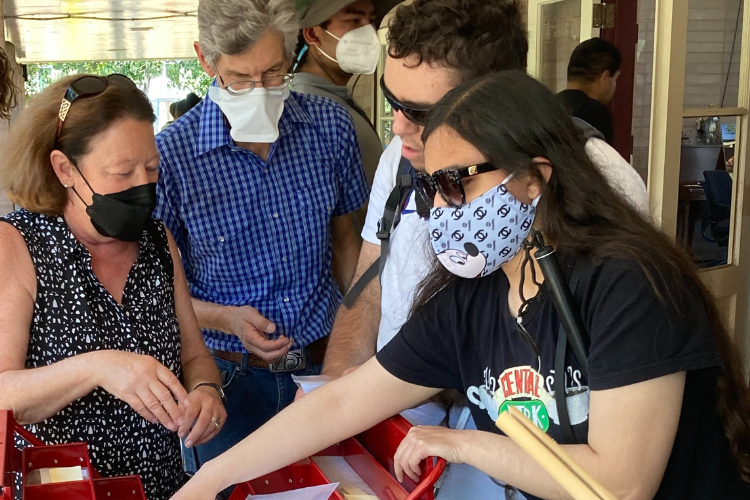 Pieces of the Past: Cultural Artifacts Uncovered by PG&E Help Educate Visually-impaired Community
By Deanna Contreras and Adam Griffith
Napa County – While working to restore power and remove hazardous trees after the 2017 Nuns Fire, a PG&E forester found what turned out to be ancient artifacts in the mountains west of Napa that shed new light on the region's rich cultural history.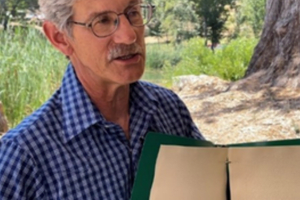 Dr. Wohlgemuth holds up the artifacts resource Braille booklet about the excavation guide.
Following protocol, the forester immediately halted work in the area and notified PG&E's cultural resource specialists, who are a dedicated team of in-house archaeologists.
"We work with all lines of business here at PG&E to protect the landscape where people before us resided," said Jennifer Darcangelo, one of 15 PG&E staff archaeologists and tribal and cultural resources land consultant for the company.
Now, four years later, those artifacts will help educate children and adults who are blind, deaf-blind or have low vision, about the past.
On Aug. 4, PG&E, and consultant partners Far Western Anthropological Resource Group, delivered the artifacts to Enchanted Hills Camp, a program space run and owned by LightHouse for the Blind and Visually Impaired.
"This is a very momentous occasion to have these artifacts available to the blind community to learn and celebrate our history. We thank our friends at PG&E for doing this and providing the funding and support for something like this," said Tony Fletcher, senior director of Enchanted Hills Camp and Retreat.
Students handing items from the touchbox, with tags in Braille.
PG&E and Far Western also delivered replicas for the students to touch and feel, as well as an educational book about the excavation and artifacts both in print and Braille. Since the artifacts were found on land owned by Enchanted Hills Camp and Retreat, they belong to the camp.
"The artifact collection will live here rather than an academic or museum setting. It will be used in different ways. Parts will be used in a touch box, where we made replicates that students can handle, with Braille tags explaining what they were used for. We will put the collection in a display case, with a resource guide in Braille that explains and describes the findings and gives information about the Wappo Tribe," said Dr. Eric Wohlgemuth, Far Western Anthropological Research Group.
"This is an unparalleled opportunity for students who are blind or have low vision to learn about archaeology in a tactile way," he added.
The camp is nestled in the forest of Mount Veeder, traditional territory of the Mishewal Wappo Tribe.
"I'm happy to be working with this group, this camp, that is caring for the land and has good stewardship and respect for the land," said Scott Gabaldon, chairman of the Mishewal Wappo Tribe of Alexander Valley.
Artifacts uncovered include tools for cutting, scraping and grinding, spearpoints, arrowheads, animal bones, and beads made from ocean shells; all items that indicate a portion of the site was used as a family summer camp about 200-400 years ago.
A tag in Braille is affixed to this battered cobble, a replicate of one of the archaeological items found.
"This treasure trove of Native American artifacts, that were here long before we were a camp, can be used to teach our students about history," said Fletcher.
In addition, as the archaeologists dug deeper, they came upon an exciting find. A larger obsidian dart point that was used with an atlatl (spear-thrower), estimated between 920-750 years old. (Watch a video that highlights PG&E archaeologists' efforts in the field during another excavation in Napa County.)
"Archaeological resources are not renewable. Once a site is disturbed, it can't be put back the way it was, but we can learn from it. We think the students will use this to learn about the past and the area they live in, a community that we care about too," added PG&E's Darcangelo.
Email Currents at Currents@pge.com.