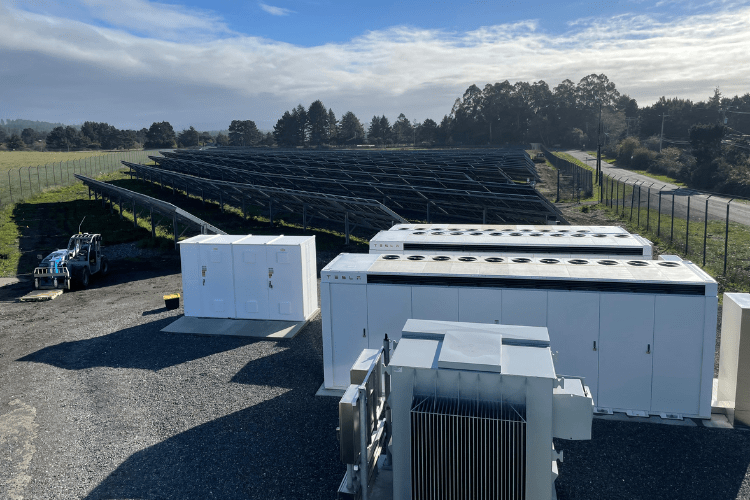 PG&E Explores Innovative Technologies to Reduce Wildfire Risk, Increase Grid Reliability and Resiliency for Customers
By Paul Doherty
Automated drones, artificial intelligence-enabled wildfire detection cameras, and solar-plus-storage. These are just a few of the new and emerging technologies PG&E is exploring or using to help advance its wildfire risk mitigation, increase grid flexibility, and achieve greater system resiliency.
PG&E outlines 26 projects in its 2022 Wildfire Mitigation Plan, a comprehensive and multi-faceted wildfire safety program filed with state regulators earlier this year. 
"PG&E has been focused on innovation, and through these grid modernization and wildfire risk mitigation projects we continue making exciting progress in developing and deploying new technologies to improve grid safety and reliability and reduce costs for our customers," said PG&E's Sumeet Singh, executive vice president, chief risk and interim chief safety officer. 
PG&E's new or emerging technology project portfolio focuses on six areas: situational awareness and forecasting, grid design and system hardening, asset management and inspections, vegetation management and inspections, asset analytics and grid monitoring, and foundational capabilities. 
Here's an overview of some of the projects: 
Situational awareness and forecasting 
Grid Design and System Hardening 
Enhanced Powerline Safety Settings: protecting about 3 million people, or more than 1 million customers, who live in high fire-risk areas within the company's service area. The safety settings turn off power within one-tenth of a second when a fault, such as a tree limb coming into contact with a powerline, is detected. Last year, on 170 circuits with safety settings enabled, there was an 80% reduction in CPUC-reportable ignitions in High Fire Threat Districts that could result in a wildfire, compared to the prior three-year average. Based on EPSS's success in 2021 as a proven wildfire prevention technology, PG&E has expanded the program to more than 1,000 circuits encompassing more than 25,000 distribution line miles in high fire-risk areas this year as well as approximately 18,000-line miles in adjacent portions of the system. Through the first half of 2022, there has been an 82% reduction in CPUC-reportable ignitions that could result in a wildfire compared to the three-year average (2018-2020). 
Multi-customer, multi-use microgrids: Developed and tested the technology, processes, and business models needed to deploy and operate multi-customer microgrids to help improve reliability for communities and critical services such as airports, fire stations, and medical facilities. This included the design and development of programs to maintain visibility and operational control of the microgrid whether it is connected to the grid or operating in "stand alone" or "island" mode. 
Microgrid resiliency: Developing the technical capabilities and production-ready operational processes to utilize Behind the Meter (BTM) distributed energy resources (such as solar, battery energy storage and electric vehicles) for resiliency in microgrids. The project aims to reduce PG&E's use of diesel generators during safety or other emergency-related outages while helping further integrate BTM DERs within multi-customer microgrids.
Asset management and inspections
Automated Drone Enablement: Demonstrating automated and "beyond visual line-of-sight" drone operation for electric system inspections and asset alert investigations. PG&E's intent is to determine whether these automated operations can both offer a more efficient alternative to transmission line and substation asset inspections than today's manual drone operations, and provide a fast, safe and effective solution for field-validating a range of sensor alerts.
 Asset analytics & grid monitoring 
Predictive Maintenance Analytics: Using data analytics and a machine-learning algorithm to detect early stages of wear and tear on PG&E's electric equipment so that crews can proactively reduce risk on the electric system.
 Momentary Outage Information: Demonstrating a new approach to proactively identify potential service issues in locations with frequent momentary power outages.
Foundational Capabilities include grid communication tools and control networks that can enable greater exchange of information required to provide real or near-real time operational visibility across the grid for enhanced decision-making. Foundational items can also increase the flexibility of the grid, providing fundamental capabilities to advance system resiliency.
 Advanced Distributed Energy Resource (DER) Management System: PG&E developed a cost-effective solution to help grid operators better manage DERs equipped with smart inverters, which are required for providing key data to PG&E system control centers. PG&E has put the system into production and made this option available to all new customers interconnecting to the distribution grid with DER systems that are 1 megawatt (MW) or larger.
Many projects, including the items listed above, are supported through the Electric Program Investment Charge (EPIC) — a statewide, customer-funded program that enables PG&E, other California investor-owned utilities and the California Energy Commission to execute emerging technology demonstration and deployment projects that address important grid needs. EPIC plays a vital role in helping drive the innovation needed to meet California's policy and clean energy goals while also ensuring the safe, reliable, and affordable operation of the grid.
Learn more about PG&E's overall emerging technology portfolio at https://www.pge.com/EPIC and read the closeout reports for EPIC projects that PG&E has previously completed here.