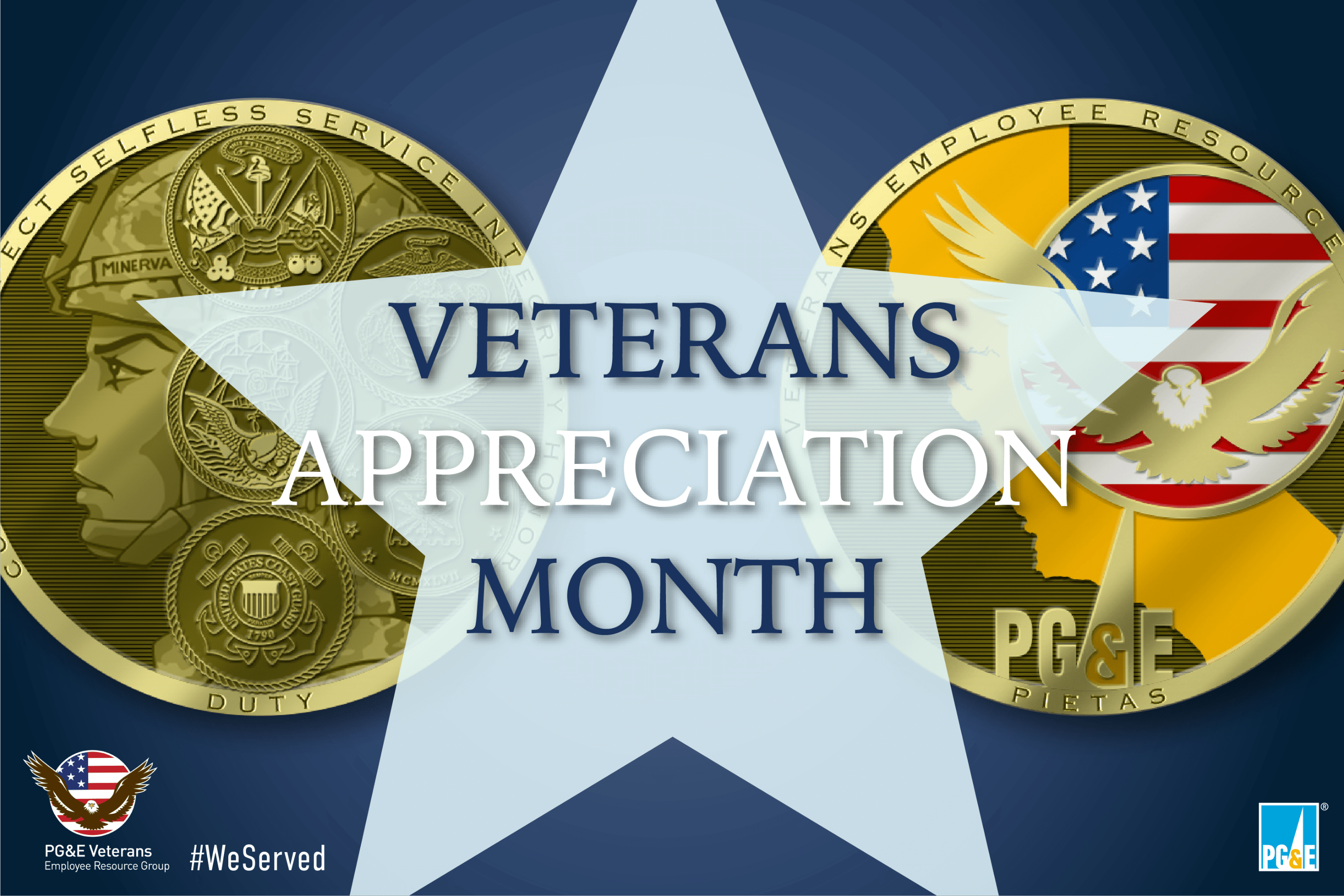 Why PG&E Veterans Served Their Country
Celebrating Veterans Appreciation Month
By Tony Khing
At PG&E, November is more than celebrating Veterans Day on Nov. 11. Thanks to Veterans Appreciation Month, it's a month-long recognition of the contributions veterans have made to the United States.
For more than 100 years, PG&E has actively sought out transitioning service members, National Guard members and reservists as coworkers. Consider:
The "1,000 Careers Project": In 2015, PG&E set a goal of hiring 1,000 veterans by 2023. The company reached its goal this year—a year ahead of schedule. Over the last seven years, PG&E has hired 1,309 veterans.
The Hire Vets Medallion Award: PG&E recently received the highest level of honor (platinum level) given by the Department of Defense to military-friendly employers.
PowerPathway: The nationally acclaimed training program has graduated more than 1,300 people—47% military veterans—since its inception in 2008.
Many veterans who come to work for PG&E are grateful for the opportunity to serve their country. In fact, nearly seven percent of the more than 23,000 PG&E coworkers have self-reported as military veterans. Currents talked to four veterans, including a recent PowerPathway graduate serving in the U.S. Navy Reserves, to find out why they served.
"My Pride Came From Serving Others"
Paul Gauna spent nearly six years in the U.S. Marine Corps. When the future staff sergeant enlisted, recruiters asked Gauna to choose tags listing benefits a recruit believed they would receive from their tour of duty. Gauna chose three: educational opportunities, travel and adventure, and pride of belonging.
"The Marines provided the first two as promised," said the gas control operations specialist. "But the pride of belonging is an intangible benefit that has meant the most to me since Day One.
"The values instilled in us throughout our military careers are values I use today at PG&E and in my community," added Gauna. "I joined thinking I'd simply be proud with the idea of being a Marine, but I discovered my pride came from serving others through my achievements."
"To Get Ahead in Life" 
Jessie Kohgadai recently graduated from PowerPathway's 50th training cohort: Gas Pipeline Inspector for Veterans. After working for a PG&E contractor for almost four months, Kohgadai was hired full-time by PG&E in mid-October as a pre-utility inspector.
She joined PG&E while still serving in the Navy. In fact, the petty officer second class is now in the reserves and has 12 years to go to reach her goal of serving 20 years.
"I joined the military to get ahead in life," she said, "and it was one of the best decisions I've ever made. The military inspired my perseverance, determination and tenacity by placing role models throughout my career. I believe it's my responsibility and duty to be that role model and inspiration for the next group of young people.
"I continue to serve," added Kohgadai, "because I want to be part of something bigger and to inspire others around me."
"I Wouldn't Change a Thing"
Matt Lopez knew he wasn't interested in going to college. But during his senior year of high school, he saw some friends at a career fair in their Marine uniforms. "Those uniforms stood out from the other branches," said the senior physical security specialist. "After speaking with them for 30 minutes, I immediately knew the Marines were the best suited place for me."
Over his eight years, Lopez, who was a sergeant, was deployed to Fallujah, Iraq and Afghanistan multiple times. "These were the toughest and best years of my young adult life. They helped shape me into the individual I am today and provide me with the tools necessary to overcome life's challenges.
"I wouldn't change a thing and would do it all over again if I could."
"Think About The Few Who Served Over the Years"
James Nickel joined the Air Force to become a firefighter. He accomplished that goal, became an EMT and earned his red card, which meant he was trained to work as a wildland firefighter, a person who puts out wildfires.
"I chose the Air Force because it was the only branch that had its firefighters responding to residential and flightline (airport and plane) calls," said the gas asset maintenance strategist. The senior airman left the Air Force after four years and was a paramedic in Petaluma for a decade before joining PG&E.
However, his time in the Air Force gave him an appreciation of the military.
"This month, remember how many people fought and died over the past 250 years to make what we have today possible," said Nickel. "Don't think about just current military members. Think about the few who served over the years, so the many can have the life, freedoms and possibilities we all enjoy today."