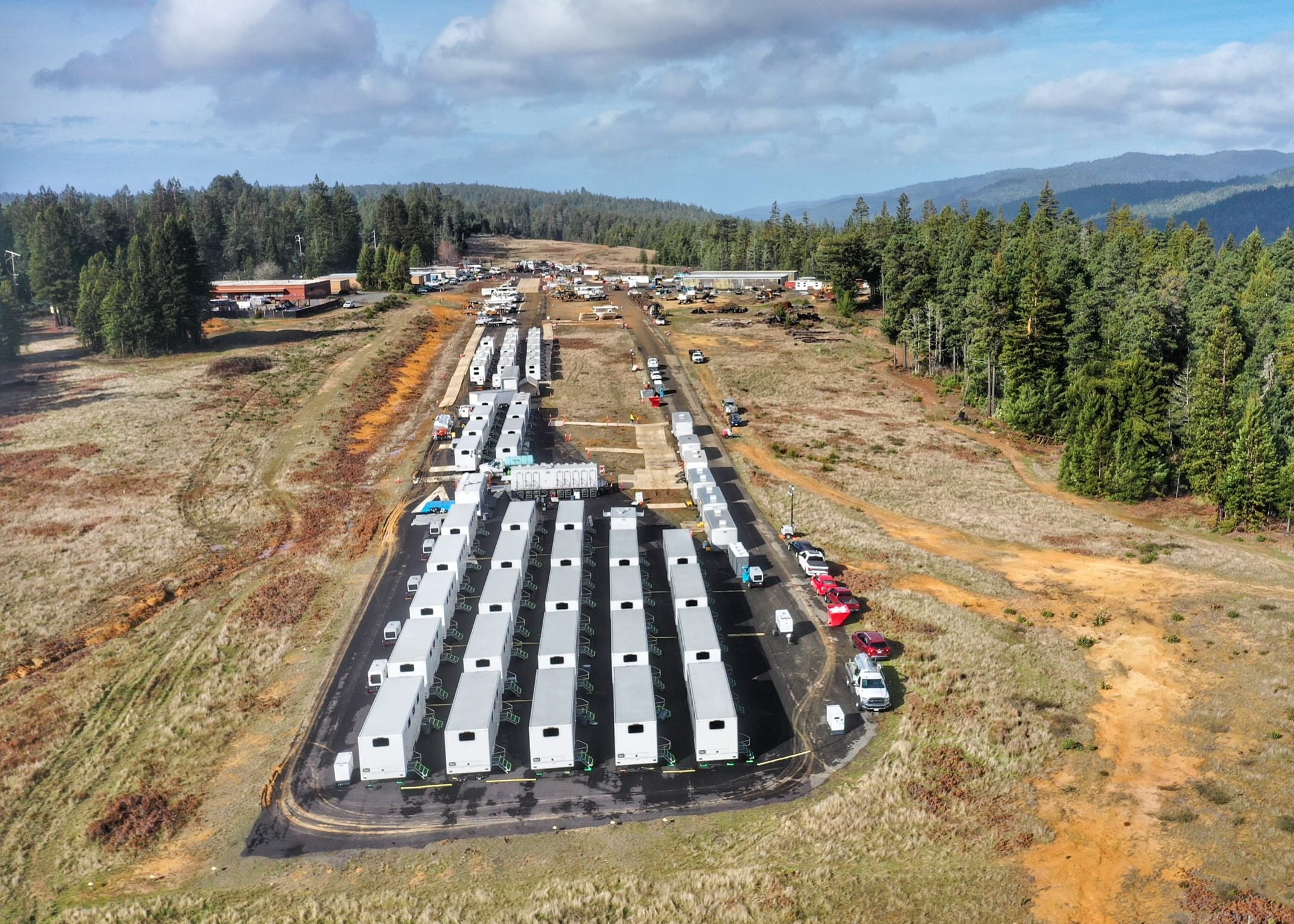 How A Diverse Supplier Made a Major Contribution to PG&E's Storm Response
By Tony Khing
When Jeff Abel, owner of a company that has set up base camps for PG&E emergency response for more than a decade, saw the forecasts for potentially bad weather in January, he knew Abel Fire Equipment's services would be needed. "Let's just say the writing was on the horizon," he said.
As the situation was developing, Abel contacted one of his suppliers, AAA Mobile Solutions, an LGBTQ-owned company that provides shower, laundry mobile sleeper units and office trailers. AAA owners Jarrett and Austin Parra were planning on taking their management team to Mexico as a reward for their hard work during the year supporting base camp needs for CalFire and other utility companies around the country.
AAA, based in Visalia, sent laundry trailers to Santa Cruz and office trailers to Willow Creek in Humboldt County. "Initially, we thought this was manageable. But it just kept evolving," said Jarrett. "When PG&E wanted to place a base camp in Gualala (Mendocino County, pictured above), I told Jeff we were cancelling the trip. He laughed and said, 'I thought you were doing that a week ago.'"
Thanks to Abel Fire Equipment and AAA Mobile Solutions, the more than 7,200 PG&E coworkers, mutual aid employees from other utility companies and contractors had a place to eat, clean up and rest from their restoration efforts. In addition, Case Blanken, owner of Redding-based Emergency Command Support (also a PG&E emergency supplier), provided assistance with sanitation services.
Setting Up a Base Camp in the Rain
In the winter months, Abel, located in Sacramento, may have 20 employees working. They immediately scaled up to 200. As for AAA, they had 12 working. Past winter storm experiences had Parra believing that would be sufficient.
When AAA learned PG&E was opening camps in Santa Cruz and Gualala, AAA brought in 100 employees. Staffing up was challenging as AAA doesn't maintain daily communication with on-call seasonal employees. "They work so hard for us in the summer that we let them unplug during the winter," said Parra.  
Rounding up enough team members in 36 hours wasn't the only challenge both companies would face.
"During the fire season, our employees know what they're going into," said Parra, whose company has worked as a sub-contractor to PG&E for five years. "Everyone knows it's typically going to be hot.  
"Rain and hurricane force winds add a different element to set up," added Parra. "There's a challenge with the mud in trying to place the equipment. Some of our people were changing their clothes three times a day during the setup because their clothes were getting so wet as the rain was hitting them sideways and drenching them."
"We had rain jackets and rain suits, but when you're pulling cable to set up power distribution and you're bending over and working on equipment with the rain suits on, they're helpful but not great," said Abel, a veteran of more than 10 years working with PG&E.
The elements weren't the only things crews had to fight. "One of my guys texted me after seeing an 18-foot tree lying across Highway 101 in front of him," said Abel. "Jarrett had 45 truck trailers moving during one of the worst storms at night. My son, Bryson, led him with his truck and had to cut trees and pull them out with his truck so trailers could keep going on the highway."
Safety First
Through the frenzy of transporting people, trailers and equipment to the base camp sites in extremely inclement weather, Abel Fire Equipment and AAA Mobile Solutions were proud to report there were no serious safety incidents. The most significant accident was having a tree fall on top of the hood of a flatbed truck going 35 mph in a 45 mph zone delivering two toilets in the Santa Rosa area. Fortunately, there were no injuries.
Both suppliers credited PG&E's emphasis on workplace safety in avoiding serious incidents.
"PG&E's focus on safety is much bigger than anything we've ever experienced with any other customer," said Parra. "The safety we practice working with PG&E is carried over when we work with other clients. We do that so our practices stay consistent across the board. That really set a standard for us. You've made us a better company."
"I've seen other emergency equipment providers who don't want to go through the safety training and refused to follow the required safety practices," said Abel. "We've learned a lot from working with PG&E. Other clients have great safety practices, but PG&E is definitely a step above in their requirements and practices."
Being of Service
No one wants to be in the elements during bad storms. In this instance, AAA and Abel were proud to support one of PG&E's historic efforts to keep the power on for its customers.
Even though this assignment represented a significant contract for AAA, Parra says he and his team never lost focus on the people impacted by the devasting series of storms.
"I live on the central coast," he said. "On the TV news, I saw a levee break in Guadalupe near Santa Maria and 30 homes were destroyed. I saw people sorting through their belongings. It was heartbreaking to see what some people were going through."
"I have an 83-year-old mother who lives in Placerville in an area that's somewhat remote," said Abel. "That's essentially the story."
INSIDE THE NUMBERS 
Besides setting up PG&E's two base camps, Abel Fire Equipment provided other services for the more than 7,200 PG&E coworkers, mutual aid employees and contractors working to restore service.
Loads of laundry done: 3,775
Coffee served: 624 gallons
Bottles of water: 86,248
Bottles of sport drink: 35,412
Hot meals: 38,642
Sack lunches: 18,269