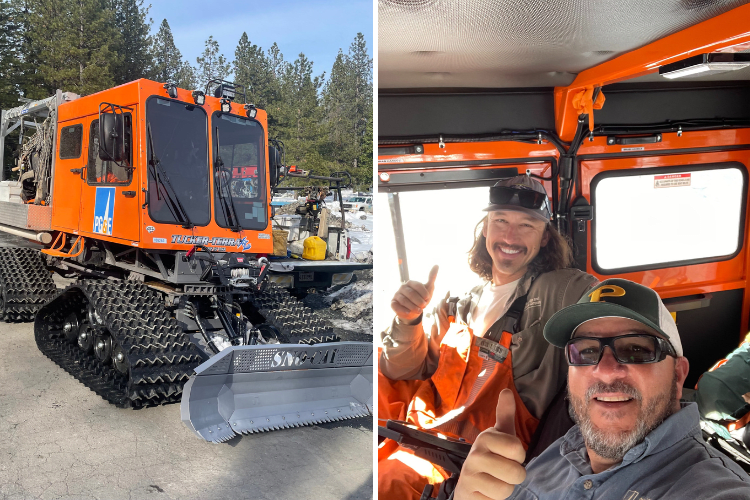 Let it Sno: PG&E Crew Uses Tracked Vehicle to Help Evacuate Woman in Need of Medical Assistance in El Dorado County
By Tracy Correa Lopez
It wasn't the usual call for help for crews working to restore power to customers in El Dorado County.
Jeremiah Norrell, a senior radio specialist in PG&E's IT department and also a volunteer firefighter and EMT with the Georgetown Fire Protection District, reached out to colleagues when he learned a snowbound elderly woman needed medical assistance.
His request of coworkers — to borrow a Sno-Cat, a large truck-sized, enclosed-cab vehicle designed to move on top of the snow and rough terrain. Electric crew foremen Aaron Rubio and Jeff Orcutt, as well as lineman Carson Penny, made it happen.
Meanwhile, several folks were trying to make their way to the woman on foot in as much as five feet of snow. They included members of the fire department and an inmate hand crew from Cal Fire.
"We responded with an engine and ambulance, but we couldn't access the address. So, the crew started on foot," said Norrell.
They were already walking two miles up the hill and prepared to carry the patient out in the snow, if needed.
"Hiking her out would have been strenuous for the crews and very hard on the patient," said Norrell. But there were few options.
There were attempts to get a helicopter for a medical evacuation, but there was not one immediately available and having to use a longline cable to lift the woman out also carried risks.
But those options weren't needed as the PG&E team came through with the Sno-Cat.
The woman's home was reached by rescuers Friday (March 3) in the PG&E Sno-Cat and she was safely transported down the snowy hill to a waiting ambulance.
It all took about 15 minutes and a helicopter that had been put on notice was canceled.
"I can't explain how valuable that Sno-Cat was, without it the situation could have been so much worse," said Norrell.
"It makes me proud to work at PG&E and Georgetown Fire," he said. [See Georgetown Fire's Facebook post thanking PG&E.]
Rubio said it's not the first time PG&E has assisted in an emergency. He's just glad he was able to help the woman and first responders.
Added Penny: "You have a sense of pride, that you help someone in need. We are up here with some specialty equipment… nice to see you can help the public too."
(Pictured: Carson Penny, left, and Aaron Rubio secured a Sno-Cat to help a customer in distress.)