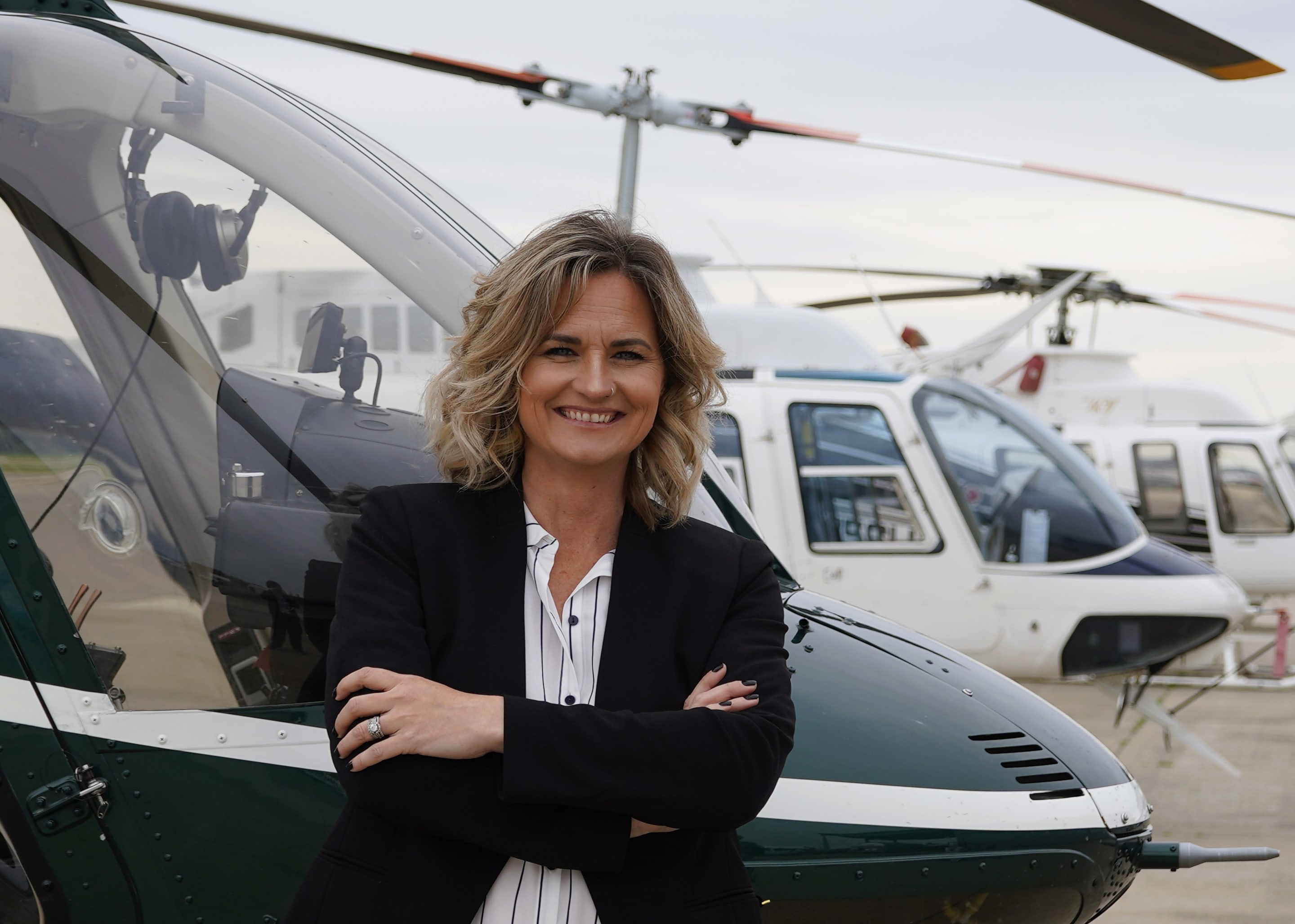 A Woman-Owned Business Gives PG&E's Aviation Operations a Lift
(Photo of Kaysha Ross by Aubrey Ross)
In the varied topography of Northern and Central California—a vast area punctuated by dense woodland areas, snow-packed mountain ranges and remote valleys—conducting "normal operations" is anything but. It requires careful planning, expert engineering, resilient crews and, on occasion, an assist from above.
That's where valued suppliers like Capitol Helicopters Inc. come in, providing PG&E with helicopters and skilled pilots to perform lifting operations in support of powerline construction and maintenance, along with conducting powerline surveys to help PG&E identify potential safety and reliability issues.
At the helm of Capitol Helicopters is President and CEO Kaysha Ross, an aviation industry veteran of nearly a decade, who sought to work with PG&E for years before formally starting her Sacramento-based company.
"I always had the desire to get into the utility helicopter market," said Ross. "By 2019, Capitol Helicopters had fulfilled the requirements to become eligible and we're now a trusted partner in business."
Ross' career started in finance as a bookkeeper for several small businesses in Shasta County. For 13 years, she prepared individual income tax returns and managed the tax preparation office in her hometown of Cottonwood.
It was in 2015, when she became lead accountant and operations assistant manager for Air Shasta Rotor & Wing Inc. that she fell in love with the aviation industry.
"That's when my desire to become an owner-operator blossomed and actually seemed attainable, and was no longer just a pipe dream," said Ross. Shortly after, she purchased a flight school, which folded into the corporation she created with her husband Casey.
Now, by providing skilled pilots and a fleet of twin engine aircraft, Capitol supports PG&E and other utilities' operations in areas that would otherwise take longer, cost more, and introduce more safety hazards to complete with ground-based resources alone.
"PG&E appreciates the partnership we've developed with Capitol Helicopters," said PG&E Director of Aviation Services Chris Steeb. "They've been responsive to our growing needs for helicopter inventory and are very collaborative when it comes to maintaining our enterprise stand that everyone and everything is always safe."
For Ross, operating the business is a way of supporting the community in which she was raised and still resides.
"Northern California has always been the home of our family as well as our business," said Ross. "We're grateful for the ability to give through charitable organizations, job training and mentorship, among others.
"However," she added, "we believe the greatest impact we can help provide to our community is through economic development. As a local small business, Capitol Helicopters always looks to spend with other businesses within our community first."
In 2020, Capitol Helicopters Inc was certified as a Women's Business Enterprise by the Women's Business Enterprise National Council. Being a woman-owned and operated business in the utility industry journey has been a challenging but deeply rewarding journey for Ross. 
"It was tough getting to this position," she said. "I've worked hard to be respected and acknowledged on the west coast as one of the leading rotorcraft operation businesses. I'm grateful to be a be a part of this fascinating industry and am glad to be a successful figure in a woman-owned business."  
But Ross is quick to note the success is not just hers, but her entire team's.
"I've been able to gather an amazing team of people who are top professionals in their fields," she said. "This team has worked tirelessly in making Capitol Helicopters what it is today. Capitol would not be what it is today without all their dedication and hard work."