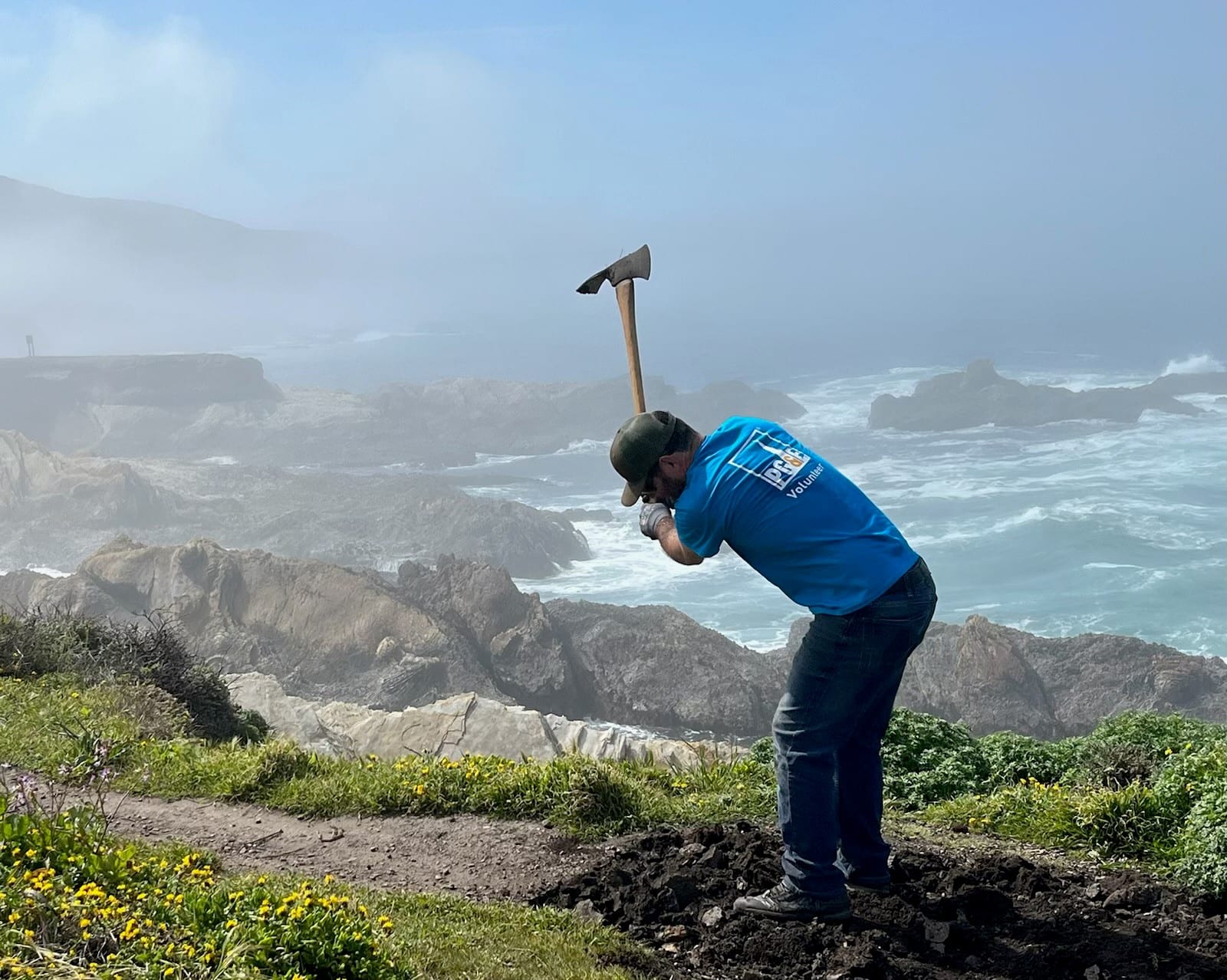 PG&E Volunteers Come Together to Serve Our Planet, Restore Parks in Celebration of Earth Day
By Tracy Correa Lopez
PG&E coworkers exchanged their usual work equipment for gardening tools and garbage bags as they volunteered to help beautify and restore local and state parks throughout the company's service area this month in honor of Earth Day.
Six of seven planned restoration events were part of PG&E's 25-year partnership with the California State Parks Foundation to support Earth Day Climate Action events throughout the month of April. PG&E also organized a separate volunteer clean up at Lake Merritt for coworkers in its hometown headquarters of Oakland.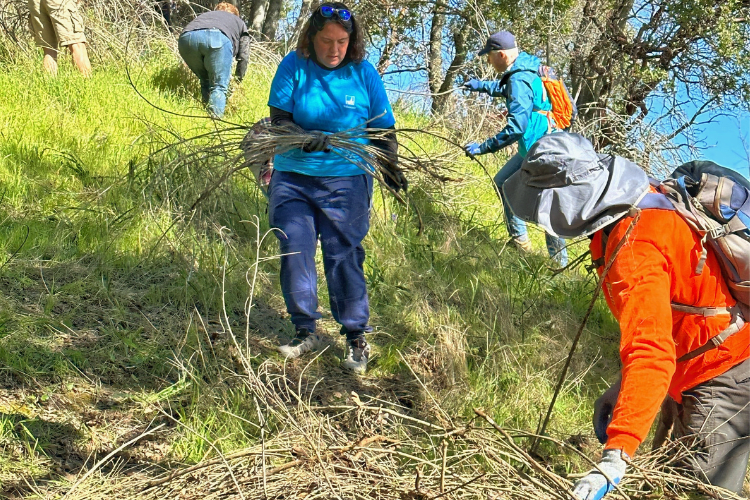 PG&E volunteers clean up brush at China Camp State Park.
Colin Celaya, an electric quality auditor (pictured in top photo), has volunteered alongside his PG&E coworkers at about six events over the years. This year was no different as he joined them at Montaña de Oro State Park in San Luis Obispo County on April 8.
His work involved using a Pulaski (a special hand tool that combines an axe and an adze) to help till an old path to prevent access and assist with habitat restoration. Native plants were then placed in the ground along the newly-accessible trail along the bluffs at the coastal park.
"I feel connected to the park and feel privileged to live close by. … I love spending time in nature and feel compelled to help out and give back," said Celaya, who frequents the park with his wife.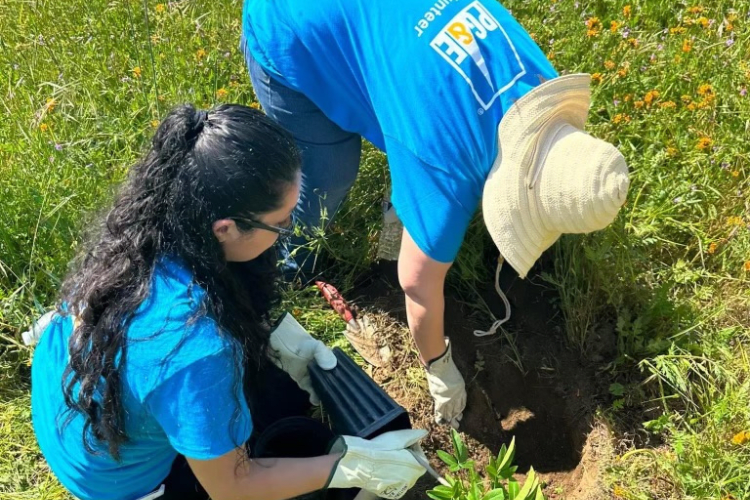 Planting at Millerton Lake State Recreation Area.
He said he is glad to support PG&E's commitment to the environment, adding: "It makes me proud to represent the company in this kind of light, definitet makes me feel good." 
In addition to Montaña de Oro and Lake Merritt, PG&E coworkers and senior leaders volunteered at China Camp State Park (Marin County), Folsom Lake State Recreation Area (Sacramento County), Half Moon Bay State Beach (San Mateo County), Millerton Lake State Recreation Area (Fresno County) and Angel Island State Park (Marin County).
Often with family members joining them, nearly PG&E volunteers picked up trash, removed invasive plants and spruced up walking trails. They even did minor repairs at some locations or anything that State Parks officials may have requested assistance with.
Wini Chen, a regulatory analyst based in Oakland, took part in the April 15 Angel Island cleanup led by PG&E's Asian Employee Resource Group. Chen explained that Angel Island State Park in the San Francisco Bay holds special meaning for Asian Americans and Pacific Islanders as it is considered the Ellis Island of the West.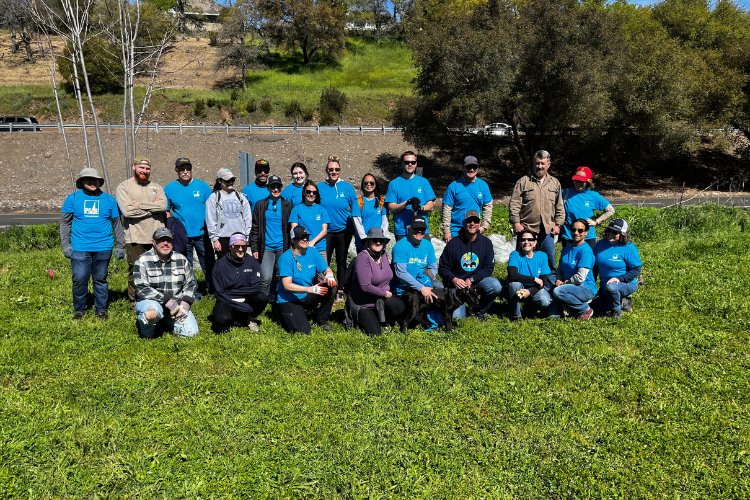 Group photo op at Folsom Lake State Recreation Area
According to the National Park Service, estimates are that between 1910 and 1940, the immigrant station at Angel Island processed up to one million Asian and other immigrants.
Chen, who has been with PG&E about five years, said this is her second time volunteering for PG&E's Earth Day event at Angel Island.
"I chose this event because of the site's history," she said, noting its significance to Asian Americans.
Elaine Chow-Davis, a San Ramon-based risk engineer (Gas Transmission Integrity Management) expressed a similar sentiment.
"I think it's important to preserve the history for future generations," she said.
Both also said they just want to do their part alongside coworkers during Earth Day events.
"I'm very passionate about environmental causes," said Chen, who enlisted about a half dozen of her team members to join her.
Chen and other members of her crew spent their Saturday morning chopping wood and removing invasive species such as broom plants to mitigate wildfire risk at Angel Island.
Added Chen: "It feels good. I like knowing the company I work for is invested in our communities and in the future of our planet."