More Than 5,000 Nonprofits, Schools Benefit from PG&E Charitable Contributions
PG&E, The PG&E Corporation Foundation and Coworkers Contributed a Total of More than $31 Million in 2022
For an audio description version of the video, click here. 
By Tracy Correa Lopez
PG&E and The PG&E Corporation Foundation (PG&E Foundation) provided $25 million in charitable contributions in 2022, along with PG&E coworkers who contributed another $6 million, all benefitting more than 5,000 nonprofits and schools. PG&E's Community Relations 2022 Impact Report provides details on programs, charitable giving and volunteerism — and for the first time includes an interactive feature that allows customers to see where nonprofit recipients are located and how charitable contributions are making a difference in their communities.
Last year, charitable contributions from PG&E and the PG&E Foundation increased by $2 million, up from $23 million in 2021. PG&E volunteer hours also rose, by 33%, with coworkers giving nearly 30,000 hours of their time in local communities PG&E serves, demonstrating that coworkers were eager to return to in-person volunteering after COVID-19 restrictions were lifted.
PG&E and the PG&E Foundation provided more than 950 grants to nonprofits supporting the safety and well-being of local communities. This included key signature programs such as the Foundation's Better Together STEM (Science, Technology, Engineering and Math) Scholarships as well as continued support for the California Restaurant Foundation's Restaurants Care Resilience Fund to help small, local restaurants with grants.
Learn more about PG&E's charitable giving and how it is making a difference in PG&E's hometowns by watching this video.
Hear from a STEM scholar in this video and a family-owned restaurant grantee in this video.
"We are deeply proud of our commitment to make a difference in the communities we are privileged to serve. From our STEM scholarships helping students make their higher education dreams reality, to grants helping our hometown restaurants thrive in times of economic uncertainty, to investing in local organizations improving local disaster preparedness, we are dedicated to helping create prosperity for our hometowns, customers and neighbors," said Carla Peterman, PG&E Corporation Executive Vice President, Corporate Affairs and Chief Sustainability Officer, and Chair of the Board of the PG&E Foundation.
New Interactive Feature and Focus Areas 
The Impact Report highlights grant support for disadvantaged communities: 93% benefitting communities of color, 91% toward underserved communities and 87% going to low-income communities.
A new interactive 2022 Charitable Giving Map allows users to search by city and county to learn which local nonprofits received grants, as well as the amount of each grant. The online tool also allows users to search by PG&E's charitable focus areas of economic and community vitality, education, emergency preparedness and safety, and the environment, as detailed below.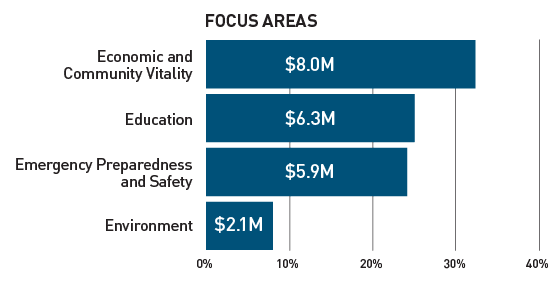 PG&E Coworkers Giving Back 
PG&E's coworkers and retirees gave generously in 2022 donating millions of dollars through the company's Campaign for the Community, PG&E's year-round giving program for qualifying nonprofits organizations and schools. The PG&E Foundation provides even greater value by matching up to $1,000 each year per individual to those qualifying organizations. This equated to $8.7 million in total contributions.