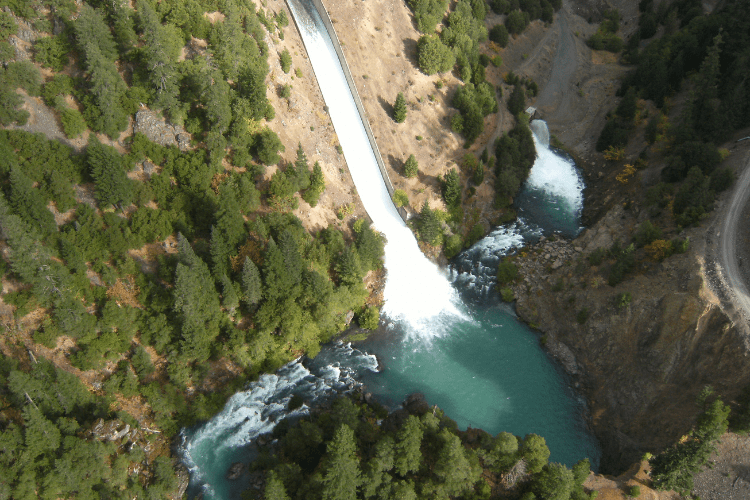 PG&E Urges Caution During Increased Flows on Lower McCloud River as Snow Melt Increases
McCloud Reservoir Dam Expected to Begin Spilling Tonight
By Paul Moreno
Flows may soon be about a foot and a half higher on the lower McCloud River in Shasta County through May while the snowmelt increases and PG&E performs planned maintenance on the James B. Black Powerhouse.
Flows in the lower McCloud River from the McCloud Dam are about 400-450 cubic feet per second, but once the dam begins to spill Monday night, flows are expected to increase to about 900 to 1,000 cfs.
Those recreating in or near this part of the river are urged to use extra caution during the increased flows.
Only one of two generators is operating at the J.B. Black Powerhouse, so less water than usual is being diverted from the McCloud Reservoir to Iron Canyon Reservoir and then to the powerhouse on the Pit River near Big Bend.
As a result, the McCloud Reservoir is expected to soon fill and excess water will come over the spillway and into the lower McCloud River, which is that portion of the river between the McCloud Dam and Lake Shasta.
The powerhouse is scheduled to return to service on May 31. Once the powerhouse is online, PG&E will gradually reduce flows back down to the seasonal normal flow release of around 200 cfs from the dam, a process that is estimated to take several days to a week, depending on actual conditions at time of drawdown.
Once the maintenance is complete all flows and water levels are expected to return within permitted ranges of PG&E's McCloud-Pit Project license from the Federal Energy Regulatory Commission.
To view the flow data on the McCloud River visit the McCloud River at Ah-Di-Na gage
PG&E offers the following water safety tips:
Stay out of cold water. Sudden immersion in cold water can stimulate the "gasp reflex," causing an involuntary inhalation of air or water. It can even trigger cardiac arrest, temporary paralysis, hypothermia and drowning. When faced with swift water, even the strongest swimmers may be easily overwhelmed.
Recreating in PG&E canals and flumes is strictly prohibited. Stay out of canals and flumes, which are very dangerous due to slippery sides, sub-surface obstacles, fast moving water, and transitions to full tunnels and pipes. For more water safety tips visit: pge.com/hydrosafety