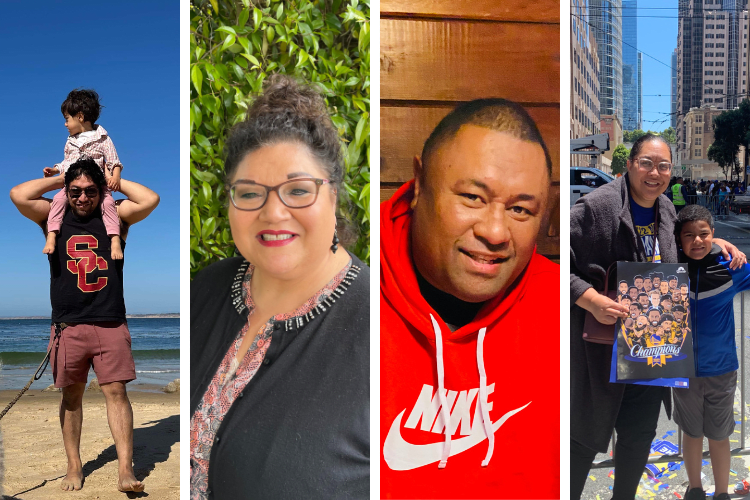 Asian American Pacific Islander Heritage Month: What Is "Pacific Islander"?
(LEFT TO RIGHT: Jonathan Oliva, Lokelani Pearl-Webb, David Sagapolu, Anna Hettig.)
In recognition of Asian American Pacific Islander Heritage Month, four PG&E coworkers with roots in the Pacific Islands were interviewed to learn more about their heritage.
Here are their stories.
Proud of Her Tongan Roots
Anna Hettig's maiden name is Taumoepeau, which means "fight with waves" in Tongan. "It's a name provided for the navigation skills of my ancestors between islands and utilizing the stars to navigate," she said.
The Kingdom of Tonga consists of 171 islands. "Tongan food is unique and indigenous to the land," said Hettig, a compliance and risk consultant. "Many farmers and fishermen raise and gather foods such as taro, breadfruit, coconuts, papaya, mango and plantain bananas. There's a variety of fish from the ocean you can eat raw or barbequed over a hot fire with coconut milk and vegetables.
"Polynesians are known navigators of the Pacific Ocean and warriors of the wave," she added. "People of the Pacific are calm like the sea and warriors of the ocean like a strong wave in a storm."
There are many famous people with a Polynesian connection, such as actor Dwayne "The Rock" Johnson, Hawaiian surfing legend Duke Kahanamoku and San Francisco 49ers safety Talanoa Hufanga. Pacific Islanders are also responsible for musical influence of the ukulele.
"We are a people from the smallest land but at the heart of the largest ocean on the planet," said Hettig. "The faith and spirituality of the Polynesian people come from a deep appreciation of ancestral lineage of nature and of family and community."
"Hapa"
In Hawaiian, "hapa" refers to someone of mixed ancestry. Lokelani Pearl-Webb was born in Honolulu to a mother who comes from the Hilo side of the island of Hawaii, while her English American father hails from Calistoga.
"Everyone seems to love Hawaiian," said the operating clerk. "We are colorful, happy and love life. I'm part of a larger group of Polynesians, a seafaring people. We're warmly received for our friendliness, dances and music."
Pearl-Webb, whose first name in Hawaiian means heavenly rose (the official flower of Maui), does have an occasional problem with identity.
"I'm often mistaken for being Mexican," she said. "I simply say I'm Hawaiian and don't speak Spanish. As a hapa raised on the mainland, I've 'passed,' but did have a rough time being accepted by my own people. It took some conversations and story telling for them to realize I was raised by my Hawaiian mother."
Which explains why Pearl-Webb feels people should learn about the Pacific Islander community. "We all have a story," she said, "and can learn from each other."
Honoring Your Parents
"I'm proud to be Samoan," said David Sagapolu, "and grateful for how my parents raised me."
In the Samoan culture, Sagapolu said, "There's only one commandment that comes with a promise: honor your mother and father and your days will be longer.
"We take care of our parents," he continued. "We discipline our kids. We take care of one another."
Sagapolu, a gas service supervisor, added there's also an expectation. "Respect and hard work starts in the home. That's how we're raised. That's what I bring to work."
He has a message for those in the AAPI community who struggle with being identified with more than one community.
"My children are Asian and Samoan, also known as afakasi (being Samoan with another ancestry)," said Sagapolu. "Be proud of being afakasi and celebrate their backgrounds. No one should have to pick and choose one over the other. It's important to know other people's ethnicity and background to communicate and work with us."
Knowledge is Important 
Guam is one of the few nations within the Pacific Islands that's governed by another country. For nearly 80 years, Guam has been an American territory.
Indigenous (original inhabitants) people in Guam are called Chamorro. Like Jonathan Oliva, an expert compliance and risk consultant. He said there's a strong Chamorro community in his hometown of Monterey Bay. Oliva, whose father was born in the town of Dededo in Guam, appreciates the cross-culture that exists in the Pacific Islands.
"I have lifetime Samoan and Tongan friends," he said. "They have their distinct traditions, but share in many of my customs and cultural views of life and how to treat others."
And like the other cultures comprising the Pacific Islands, Oliva said Chamorros believe it's a responsibility to give back and support loved ones.
"This belief isn't based on cultural pressure, but rather genuine love and respect for family," he said. "This guiding principle is the spirit of the heritage my dad impressed on me."
Oliva has a good reason why people need to know about the Pacific Islanders, and actually all communities.
"Why not learn about every community," he said. "The confluence of multiple cultures defines the human experience. Our familiarity with, and knowledge of, various cultural communities can only enhance mutual understanding and acceptance, both of which could solve a good percentage of issues we face in today's world."