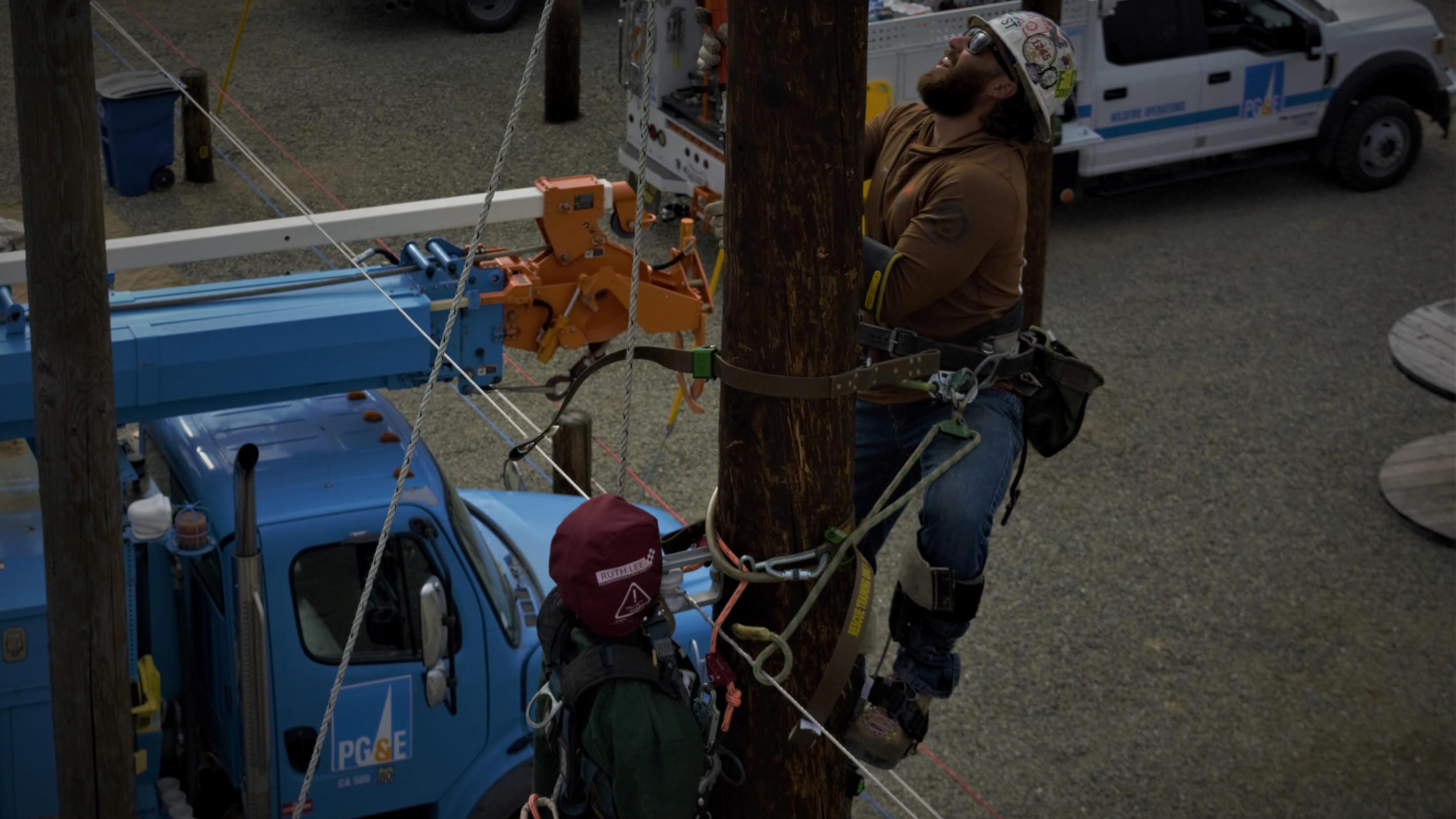 PG&E Line Crews Shine in West Coast Rodeo
Top finishers earn chance to compete in International Event in October
By Benjamin Spillman
With a record-breaking winter behind them, line crews from PG&E got the chance to demonstrate the skills they use at work for friends, family, and a shot at bragging rights on Saturday.
Under increasingly sunny skies more than 100 journey and apprentice line workers from PG&E and beyond competed at the PG&E/IBEW 1245 West Coast Lineman's Rodeo.
The rodeo, in which journey and apprentice line workers compete in events that simulate on-the-job scenarios, is a chance to safely demonstrate skills for friends and family. 
It's also a chance to compete for the opportunity to represent PG&E in the International Lineman's Rodeo in October in Bonner Springs, Kan.
"It's the perfect environment for family and friends to watch line workers at the top of their craft," said Sid Silva, chairman of the Lineman's Rodeo Committee.
Apprentices compete as individuals in six events, including a written test, and journey line workers compete in teams of three in five events.
"They're being judged on every move," said Mark Quinlan, Senior Vice President of Wildfire and Emergency Operations for PG&E, who attended the event in Livermore. "It takes an incredible amount of skill and physical talent."
While the competition is the centerpiece of the day, there is just as much action outside the events, including a family fun area with arts and crafts and games, food trucks, music, vendors and a fun, family-friendly vibe.
The day of the event began under overcast skies that gradually cleared and temperatures in the 60s, which was ideal for competition.
"There is so much for the kids to do, we mark it on the calendar," said Jennifer Esteridge, a PG&E permit facilitator based in Modesto, who attended with her husband, Alex, also a PG&E coworker, and their daughter Sophia, 3.
Apprentices
Pole Climb
3rd Victor Flores, Southern California Edison
2nd Travis Henry, Arizona Public Services
1st DJ Martinez, PG&E
Hurt Man Rescue
3rd Carson Young, Southern California Edison
2nd Matthew Newton, Southern California Edison
1st DJ Martinez, PG&E
Apprentice Mystery #1
3rd Timothy Stalboerger, Southern California Edison
2nd Matthew Newton, Southern California Edison
1st Jubran Camacho, PG&E
Apprentice Mystery #2
3rd Adrian Bogarin, Southern California Edison
2nd Alex Clardy, PG&E
1st Travis Henry, Arizona Public Services
Apprentice Written
3rd Marshall Martens, PG&E
2nd Alex Clardy, PG&E
1st Cody Jackson, PG&E
Apprentice Overall
3rd Cody Jackson, PG&E
2nd Marshall Martens, PG&E
1st Alex Clardy, PG&E
Apprentices to Kansas City
Alex Clardy, Marshall Martens, Cody Jackson, DJ Martinez, Jonathon Pacheco, Francisco Villanueva (IBEW 1245)
Journey
Journey Pole Climb
3rd Oscar Gonzales, Ryan Rozendaal, Derric Cullinane, Arizona Public Services
2nd Francisco Flores, Dustin Curry, Brandon Dance, PG&E
1st Brandon Gloria (Southern California Edison), David Angove (PG&E), Jacob "Floppy" Hunt (PG&E)
Journey Hurt Man
3rd Brandon Gloria (Southern California Edison), David Angove (PG&E), Jacob "Floppy" Hunt (PG&E)
2nd Francisco Flores, Dustin Curry, Brandon Dance, PG&E
1st Daniel Jameson, Cole Rae-Plouffe, Steve Lekvold, Sturgeon Electric/IBEW 47
Journey Mystery #1
3rd Oscar Gonzales, Ryan Rozendaal, Derric Cullinane, Arizona Public Services
2nd Francisco Flores, Dustin Curry, Brandon Dance, PG&E
1st Daniel Jameson, Cole Rae-Plouffe, Steve Lekvold, Sturgeon Electric/IBEW 47
Journey Mystery #2
3rd Vinnie Sanchez, Justin Maple, Matt Katz, Southern California Edison
2nd Jordan Ralls, Ben Boardway, Carson Penny, PG&E
1st Brandon Gloria (Southern California Edison), David Angove (PG&E), Jacob "Floppy" Hunt (PG&E)
Journey Team Overall
3rd Francisco Flores, Dustin Curry, Brandon Dance, PG&E
2nd Oscar Gonzales, Ryan Rozendaal, Derric Cullinane, Arizona Public Services
1st Brandon Gloria (Southern California Edison), David Angove (PG&E), Jacob "Floppy" Hunt (PG&E)
PG&E Journey Teams to Kansas City
Francisco Flores, Dustin Curry, Brandon Dance
Anthony Albright, Adam Beene, JP Richard
Jordan Chene, Logan Schaffer, Stephen Ko
Shannon Spah, Joe Rogers, Josh Daly (IBEW 1245)