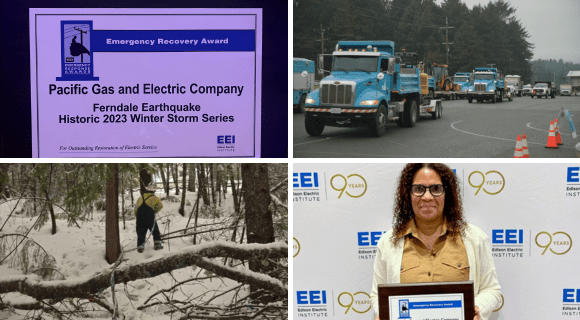 PG&E Wins Industry Award for Emergency Response: 'We Do It for Our Customers'
By Angie Gibson 
We don't respond to emergencies to get thanks and awards. We do it for our customers. To restore not only their gas or electric service, but a sense of normalcy that comes from the lights coming on when a switch is flipped.
The Edison Electric Institute this week named PG&E as an Emergency Response Award recipient for recovery efforts that began in December with the Ferndale Earthquake and continued through a series of atmospheric river storms in the first three months of 2023. The award serves as a great responder that keeping customers safe and keeping their lights on are the two most important things we do.
After responding to the earthquake in December, PG&E crews responded to 15 storms between January and the end of March, and restored service to more than 7 million customers. The work goes beyond those numbers. It included weeks of long days, and long separations from friends and family. It included hard work in conditions so challenging that it was often necessary to stop work for safety. Despite all of the challenges, our crews answered the call.
When he announced that PG&E was receiving this award, Tom Kuhn, EEI President and CEO, reiterated that safety is the top priority for all of us in the utility industry, whether we are responding to a storm, an earthquake, or any other emergency.
"I commend PG&E's commitment to restoring service for its customers safely and efficiently under challenging conditions following both the Ferndale earthquake and a series of severely damaging storms," Kuhn said.  "PG&E and its storm response team are extremely deserving of this national recognition, and I am honored to present them with this well-earned recovery award."
How were we able to respond so well? Because of the dedication and training of PG&E workers company-wide.
We ended 2022 and began 2023 serving in our emergency response centers across the state. For four months our team was called to respond as wave after wave of storms followed the Ferndale earthquake. I'm so proud of the men and women of PG&E who not only worked to restore our customers but did so safely. During this unprecedented winter, we saw what can happen when a team is so dedicated to their mission of helping our customers and their communities recover from disaster.
Very soon after we finished our storm response, we reopened our main Emergency Operations Center in Vacaville it to exercise our ability to keep our customers safe through Public Safety Power Shutoffs. That exercise demonstrated a level of commitment to our customers that truly makes me proud to be a member of the PG&E team.
I'm also reminded that while storms, earthquakes and other emergency response often receive headlines both in the public and in the company, it's the day-to-day work our employees do that forms the foundation of our company, and our customer service We do this work safely. We do this work together. And we do this work for our customers.
Angie Gibson is PG&E's vice president of Emergency Preparedness and Response.
(Pictured: Yvonne McIntyre, PG&E's vice president of Federal Affairs, displays the EEI award at a conference in Austin, Texas.)