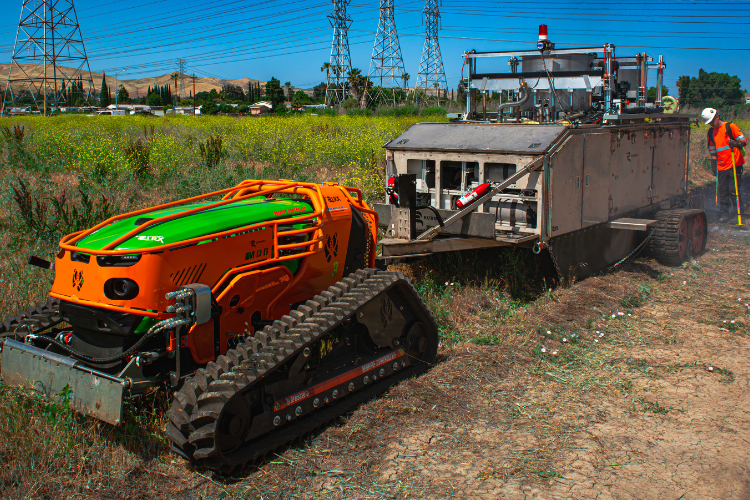 PG&E Demos High Tech, Low Emission 'BurnBot' to Reduce Fire Risk and Help Ecosystems
Remote-controlled machine promises huge safety and emission gains to prescribed burns.
By Benjamin Spillman
For thousands of years people have known burning vegetation in fire-adapted ecosystems such as grassland and chaparral — when done correctly — can improve ecosystem health and prevent buildup of fuels that can contribute to catastrophic wildfires.
But applying "good fire" in modern California is a difficult task.
Prescribed burns require weather and fuel moisture conditions that limit the risk of fire getting out of control. And even burns managed under perfect conditions produce smoke that can drift into nearby cities or subdivisions. PG&E Vegetation Management does not use controlled burns today.
Recently, a large group of wildland fire, technology and utility experts gathered on PG&E-owned property under high-voltage transmission powerlines in Pittsburg in Contra Costa County to learn about the BurnBot RX1, a tool that promises to harness the power of prescribed fire with precision and control for wildfire mitigation and ecosystem benefit while reducing constraints.
"We are adapting the ancient practice of using fire to treat landscapes for the 21 century reality where structures dangerously intermix with vegetation fuels. Addressing this growing fuel build-up in the wildland-urban-interface requires precision technology that can safely, cleanly and efficiently treat fuels" said Anukool Lakhina, co-founder and CEO of South San Francisco-based BurnBot.
The demonstration is a part of a PG&E Electric Program Investment Charge (EPIC) project to demonstrate novel vegetation management technologies.
Under EPIC, investor-owned utilities such as PG&E support the testing and demonstration of technology or processes that have the potential to support California's energy and climate goals.
Prior PG&E EPIC projects include developing:
Distributed Energy Resource Management System (DERMS) technology that significantly reduced the cost of communications for solar generating facilities greater than 1 megawatt.
Predictive maintenance analytics - technology to harness data from smart meters to forecast when overhead transformers might fail so they can be repaired or replaced before failure.
Clean energy, multi-customer microgrids – R&D collaboration and support for the deployment of California's first 100% renewable energy, front-of-the-meter, multi-customer microgrid: the Redwood Coast Airport Microgrid, which serves as a model for additional microgrids to be deployed through PG&E's Community Microgrid Enablement Program.
With BurnBot, PG&E and others are seeking to establish a tool that can safely accomplish the desired results of prescribed burns in modern contexts and be deployed throughout California.
"BurnBot's RX1 is one of the first technologies designed to apply prescribed burns in a way which could be really controlled," said Kevin Johnson, a PG&E analyst working in Utility Partnerships. "BurnBot has potential to save costs while also reducing risk and helping the environment."
Also in attendance at the demonstration were representatives from the United States Forest Service, Bay Area Air Quality District, Contra Costa County Fire Protection District, Richmond Fire Department, San Ramon Valley Fire Protection District and the Contra Costa Resource Conservation District.
The RX1, a prototype design, is roughly the size of a Zamboni and is towed by what is essentially a remote-controlled tractor. BurnBot also offers remote-controlled masticators which can pre-treat areas for the RX1.
Inside the RX1 are three arrays of propane torches with flames that can be adjusted depending on conditions such as fuel type and moisture levels.  These torches can be accurately controlled for both flame length, and flame temperature to best fit the vegetation and ecological needs of each site.
In addition to the torches there is an electric generator to provide power, propane tanks to fuel the torches and air blowers that help reduce emissions by creating a long flame while maintaining flame temperatures high enough to burn smoke before it can escape the chamber. Smoke is cycled back into the heat chamber, significantly reducing air quality impacts relative to controlled burns.
To keep the burning in control, fans force the air in an upward direction, which keeps the flames between curtains around the lower edge of the chamber. Additionally, the BurnBot has a tank to supply water to sprinklers that wet the ground after the torches pass over. At the trailing edge of the machine is a heavy roller that further tamps down whatever flames might remain. Fire technicians then also proactively monitor for and extinguish potential rekindling.
"We think one of the best uses of the RX1 is to protect critical infrastructure that is in or near the wildland urban interface," said BurnBot co-founder & Chief Technology Officer Lee Haddad.
Near communities or structures operators can maneuver the RX1 in a tight pattern to burn an area with low risk of escaped flames and little to no smoke. In larger areas the RX1 can operate in a looser, checkerboard pattern, creating nested control lines and fuel breaks.
"We can also burn outside the normal prescribed fire window which is very important in scaling the use of good fire, and safely burn during times of the year when the ecosystem is adapted to fire" Haddad said.
Peter Beesley, a program manager on PG&E's Transmission Vegetation Management team, said he's interested in learning whether BurnBot could be added to his existing management tools: as an alternative to mowers in managing grassland and chaparral; in place of herbicides or dozers in creating fuel break lines; and as solution to manage invasive species and herbicide-resistant weeds.
With approximately 18,500 miles of transmission line throughout the service area, any efficient and effective tool has the potential to make a big impact.
"With PG&E's scale, when we accelerate transformative new technology to enhance broader wildfire mitigation efforts it improves our own operations and benefits customers and communities," Johnson said of the potential for PG&E to leverage scale for the benefit of customers, communities and the environment. "It is very hard to find other platforms where you can have this kind of impact."
PG&E and BurnBot have additional tests planned for 2023 in different locations to try the RX1 and remote-controlled masticator in a variety of settings with different plant species and varied terrain.
BurnBot anticipates bringing a commercial product to market by 2024.