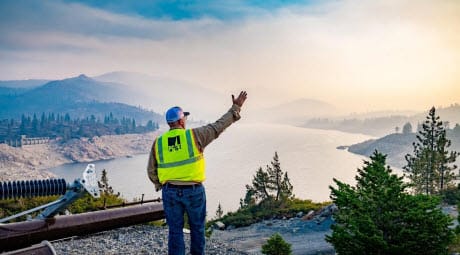 Accelerating Innovation with Breakthrough Thinking and Collaboration: PG&E Launches New R&D Strategy Initiative and Innovation Summit
Join us and spread the word to your community
By Paul Doherty
Today (June 23), PG&E unveiled a new research, development (R&D) and innovation initiative to bridge the gap between today's energy system and California's electrified and decarbonized future.
The initiative is anchored on PG&E's R&D Strategy Report, available at www.pge.com/innovation. The report identifies nearly 70 priority energy system challenges requiring R&D to achieve PG&E's True North Strategy, which comprises three major components: rebuilding trust and delivering excellent service for customers; architecting a decarbonized, safe, and reliable energy system; and enabling these outcomes by building strong foundational capabilities.
Register for July 25 PG&E Innovation Summit
PG&E will leverage the report to engage with researchers, industry, policymakers, entrepreneurs, and academia to identify novel technologies and solutions across the electric and gas systems focused on supply and load management, integrated grid planning, electric vehicles and vehicle-to-grid applications, wildfire mitigation, undergrounding, and gas system decarbonization.
"PG&E has a rich history of accelerating innovation, and we are more committed than ever to working with the best and the brightest to advance our clean energy future and solve some of the most challenging issues facing the energy system today," said Jason Glickman, Executive Vice President, Engineering, Planning & Strategy, PG&E. "Our new R&D Strategy Initiative provides insights needed for working more collaboratively and effectively with innovators to advance a wide range of bold, innovative technologies that will enhance the customer experience, improve grid resilience, and ensure that a healthy environment and safe, carbon-neutral energy system is the reality for all Californians."
To advance these goals, PG&E, through the new initiative, will proactively identify and utilize emerging technologies that have successfully progressed out of the foundational research phase, are ready to pilot or deploy near-term and have a path to commercialization at scale. 
Innovation Summit 2023 on July 25 and Pitch Fest in September
Through the R&D Strategy Report, developed in collaboration with ADL Ventures, an energy and climate tech consultancy, PG&E is sharing with the energy industry, technology, and start-up communities key insights around challenges the company is committed to solving with breakthrough thinking and collaboration. As next steps in bringing this new R&D Strategy Initiative to life, PG&E will host two events this year:
The PG&E Innovation Summit 2023 on July 25 leverages the R&D Strategy Report to bring together entrepreneurs, national labs, thought leaders, policymakers, investors, and other stakeholders to engage directly with PG&E leaders and subject-matter experts about the current state and future needs of the energy system. This inaugural event will include energy industry keynote speakers (to be announced) and deep dive breakout sessions around the key R&D themes outlined in the report. The one-day event will take place in-person in San Ramon and will be hosted by Jason Glickman and Patti Poppe, Chief Executive Officer of PG&E Corporation. There will be a virtual attendance option inclusive of the breakout sessions.


The Innovation Pitch Fest 2023 in September will follow the technology and solution application and selection process that opens on July 25. Through that process, select applicants will be invited to pitch their technologies or solutions at the Innovation Pitch Fest 2023 to PG&E management, key decisionmakers and subject-matter experts. Successful pitches have the potential to lead to a range of follow-on engagements with PG&E, including partnership and grant opportunities, and influence over the scoping of upcoming Electric Program Investment Charge (EPIC) 4 projects with a total budget of $83 million. PG&E is actively developing its portfolio of EPIC 4 projects around the key themes outlined in the R&D Strategy Report and anticipates launching projects by the first quarter of 2024, pending final program approval by the California Public Utilities Commission.
R&D Strategy Initiative Focus Areas
Supply and Load Management – PG&E aspires to play an important role in expanding load management capabilities across all levels of the grid and seeks to partner with the innovation community to make comprehensive load management a core capability. On the supply side, PG&E seeks to integrate promising new forms of next-generation energy supply and storage technologies at the lowest capital cost and highest-value locations to deliver the clean, affordable, and resilient grid of the future.


Integrated Grid Planning – Accommodating the pace and scale of anticipated load growth will require the ability to connect new loads more efficiently to the electric system while optimizing transmission and distribution (T&D) upgrades. PG&E seeks to identify new tools and technologies that reduce lead times for service upgrades and new service connections, safely increase the flexibility and/or thermal rating of grid assets, improve power quality on the T&D system or otherwise increase the efficiency of T&D assets on the grid.


Electric vehicles and vehicle-to-grid applications – PG&E aims to reduce the costs and shorten the timelines associated with charging installation upgrades through low-cost technologies that can be implemented at scale or solutions that avoid electrical upgrades altogether. Additionally, enabling vehicle-to-everything (V2X) infrastructure and making full use of EVs as grid assets can create opportunities to reduce the cost of ownership and unlock novel value streams that could be leveraged to better serve customers and the grid and generate incremental revenue.


Wildfire mitigation – PG&E is continually looking for the most cutting-edge technologies and aggressive methods to mitigate wildfire risk while minimizing customer impacts. Improved monitoring, management, and operation of assets–along with optimized forest management–can help end catastrophic wildfires while enhancing PG&E's ability to deliver affordable and reliable electricity.


Undergrounding – PG&E seeks to increase the speed, efficiency, and predictability of undergrounding. The goal is to identify novel technologies that can help PG&E mitigate risk quickly while reducing the cycle time and cost of undergrounding projects.


Decarbonizing the gas system – PG&E's vision is to evolve the gas system to be an affordable, safe, and reliable net zero energy delivery platform. To make the transition, PG&E expects a diverse mix of resources to be available—from broad electrification to cleaner fuels such as renewable natural gas and hydrogen to nature-based solutions and carbon capture, storage, and utilization.
Read the R&D Strategy Report, find Innovation Summit details and registration information, and learn more about the Innovation Pitch Fest at www.pge.com/innovation.