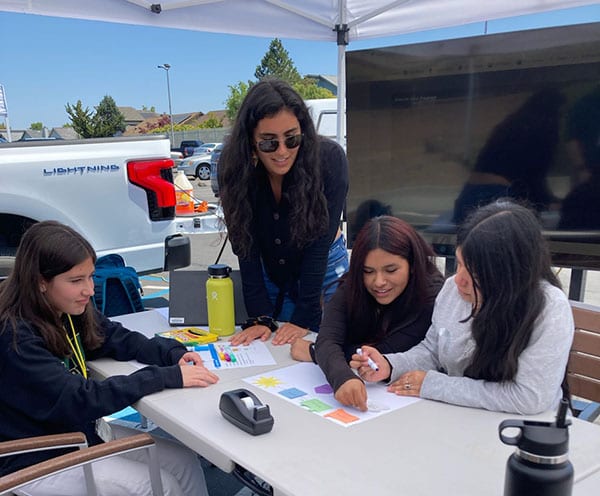 Delivering for Our Hometowns: PG&E Hosts Rising Freshmen at Santa Rosa Yard for Two Days of Real-life STEM Education
Join us and spread the word to your community
By Melinda Rivera and Megan McFarland  
SANTA ROSA -- On June, 13 students from across Sonoma County spent two days at PG&E's Occidental Yard interacting with lineworkers and hearing presentations on everything from PG&E's Applied Technology Service offerings to how to operate a crew truck. The incoming 9 grade students were part of the Mike Hauser Academy, which convenes students, businesses and teachers, empowering our future workforce to become leaders in STEM (science, technology, engineering and mathematics).
For three weeks, students interacted with engineers and professionals to observe demonstrations and participate in hands-on activities to see how classroom lessons apply to STEM occupations and operations.
"PG&E has participated in the Mike Hauser Academy for several years now, and it's a fantastic way to help prepare young people for future careers in different industries. In order to get young people excited to join the workforce, it's important for them to see how what they are learning in the classroom applies to real life, and I think their two days with PG&E gave them that view," said Ron Richardson, Vice President for PG&E's North Coast Region. 
Identifying the sights, sounds and smells of gas
On Day 1, students met members of the Gas Operations team to learn how the gas system provides power and heat to their homes. They also learned how to identify gas leaks—through sight, sound and smell—and even received scratch-and-sniff cards. The students also learned information about underground utilities, including how to identify what each color on USA markings signifies. While inside the classroom, the students met with Mary Molina, Director of Gas Transmission & Distribution, who discussed her career in engineering and leadership, including her experiences overseeing a drone program to conduct electric line inspections.
Outside the "classroom," backhoe operator Karina Garcia reviewed with students how to safely operate a crew truck and discussed the work that she does in the field. When asked what she enjoys the most, Garcia said, "First of all, the people I work with, and second, the feeling of accomplishment I have when a project is successfully completed."
The next presenters included Cultural Resources Specialist Bronwynn Lloyd and Terrestrial Biologist Nick Burton. Lloyd shared the items that she uses to tailboard the crews so they're aware of what they might encounter and how to preserve historic or prehistoric resources. Burton took the kids on a creek walk where they used binoculars to identify bird nests, conducted calculations to measure canopy shade, and used a decibel reader to establish a baseline for natural sound levels in the park environment.
The students also received a presentation from Vegetation Management Supervisor David Wentworth who facilitated a hands-on tree identification activity. Students learned the distinguishing characteristics of different native trees and the microclimates where they grow.
On Day 2, PG&E Lineman Marc Young shared information about the work he does to build and maintain the electric distribution grid. Young grew up in Santa Rosa, and shared how much he loved his job and the ability to do work outdoors to power our communities. The students learned about the different types of conductor wire, fuses, fault indicators, transformers, animal guards, and safety issues for electric power.
"Many of the students were really engaged, asking lots of questions and wanting to learn more about life as a lineman, especially when we brought out some of our tools. When I was a kid, we didn't have exposure opportunities like this, so I think it was a worthwhile day and got them excited about different jobs at PG&E," said Young.
The power of drones
Another highlight was Grid Innovation Engineer Talia Arauzo facilitating a hands-on design project activity in which the kids worked in small groups to design a functional remote microgrid. Arauzo shared examples of local microgrids that have been recently constructed by PG&E, including details on an upcoming grid in the Santa Rosa area.
Also on Day 2, Technologist Al Beliso reviewed the history of electric vehicles in California and how EVs are used to power homes. He demonstrated using a Ford Lightning pickup to power a replica of a living room—including a fan, large-screen television monitor and, as a bonus, a theater-style popcorn maker. An extra bonus was that the kids got to snack on popcorn during the remaining demonstrations.
A final highlight was Senior 3D Engineering Technician Henry Cline talking about how PG&E uses drones and high-resolution cameras to create virtual environments. The students asked questions about the resolution of the camera and how the captured data is used to produce images that can lead to real-world construction and repairs. The students were particularly impressed with the size and the power of the drone – one noted that "it's strong enough to carry a 3rd grader!" The students had hands-on opportunities to see how AI can measure objects at a distance, and how sensor attachments can be used to create 3D models of objects.
Melinda Rivera, local government affairs expert for the Sonoma area, helped coordinate the event and observed that it was exciting to see the students use their creativity and teamwork to practice design challenges. "It was an honor for PG&E to partner with the Santa Rosa Metro Chamber to promote equitable access to science and math related education," said Rivera.