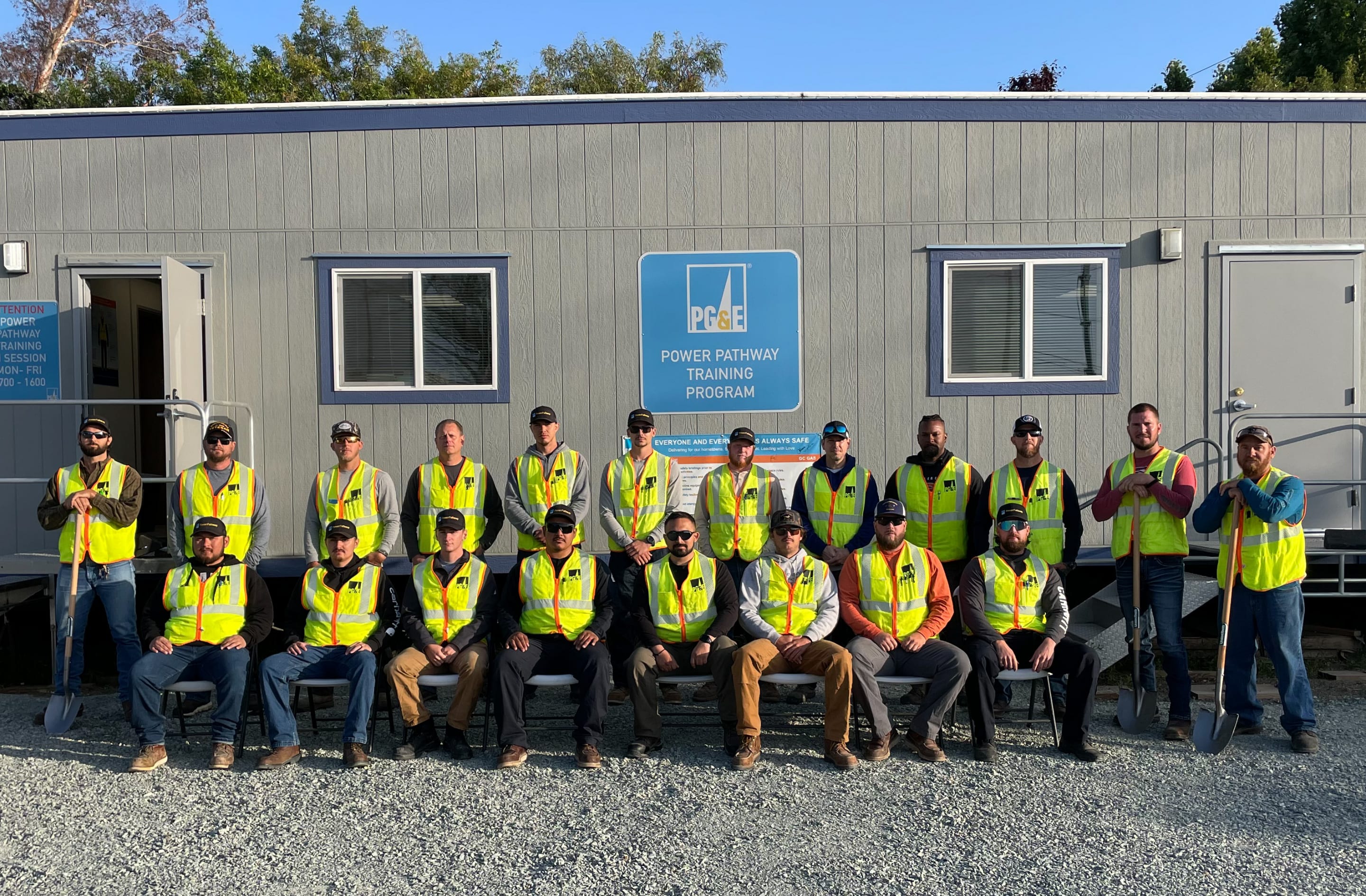 Keeping It Local: PG&E's PowerPathway Trains Veterans to Support Undergrounding Initiative
PG&E's efforts to underground 10,000 miles of powerlines in high fire threat areas is getting a lift from the military.
The company's nationally recognized PowerPathway training program recently graduated a class of 20 who took the Entry to Gas Operations for Veterans. Eligible students had to live within 150 miles of Elk Grove. During the unpaid, eight-week training course, students were taught skills in excavation, joint trenching and traffic control flagging. They were also guaranteed job placement after graduation by IBEW Local 1245 as Hiring Hall utility workers and traffic control flaggers.
The Entry to Gas Operations for Veterans training cohort was a joint partnership with Swords to Plowshares, a San Francisco Bay Area-based community organization that helps veterans transition into civilian life, along with IBEW Local 1245 and PG&E's Gas Operations Gas Safety Academy, Talent Acquisition and Hiring Hall staffing teams.
Why training in Gas Operations? Through PG&E's Gas for Electric (G4E) initiative, Gas Operations is supporting the 10,000-mile undergrounding project. 
"We're experts in digging. That's what we do," said Jodie Kubota, senior director, gas construction services. PG&E has more than 42,000 miles of natural gas distribution pipelines and nearly 6,500 miles of transmission pipelines that carry gas over longer distances. "The people who do the work live in those communities that will benefit from it."
"All of the work on this 10,000-mile project is taking place in areas with heightened wildfire risk or where wildfires have already occurred," said Ernest Grider, a superintendent of gas transmission and distribution. "We were able to handpick students out of those communities. We also wanted to make sure we're giving back to those communities."
"In my experience, people want to serve their own hometowns," said Vice President, North Valley and Sierra Region Joe Wilson. "They do a better job when they know they're working for their neighbor because they can see how much it means to their community."
The value of PowerPathway 
Since PowerPathway's inception in 2008, more than 600 veterans are part of the more than 1,100 graduates and have taken jobs within the company. This recent veterans class, which was the 52nd training cohort in PowerPathway's 15-year history, consisted of eight Marines, six from the Air Force, and three each from the Army and Navy.
"Veterans have shown their level of dedication, hard work and service to our country," said Wilson. "It's this type of culture that's going to help our teams keep each other safe at PG&E. To have a pipeline that directs them right into the field is pretty amazing.
"PowerPathway is one of the best ways to bring people into the company who are dedicated and committed to service," added Wilson. "Those are the teammates you want. The people who have each other's back."
"We're looking forward to a bright future working for PG&E," said Wes Tarrant, a former Air Force staff sergeant and a graduate of the Entry to Gas Operations for Veterans training. "The eight weeks went by quickly because we were learning so much and it was always something new. We walked out of the program knowing PG&E wants us to be safe, trained properly and understand the important task we have of undergrounding powerlines."
"PowerPathway students are seriously committed because they don't get paid to do this," said Kubota. "They're doing this basically on their own dime. The people we see through PowerPathway want to make PG&E their career."