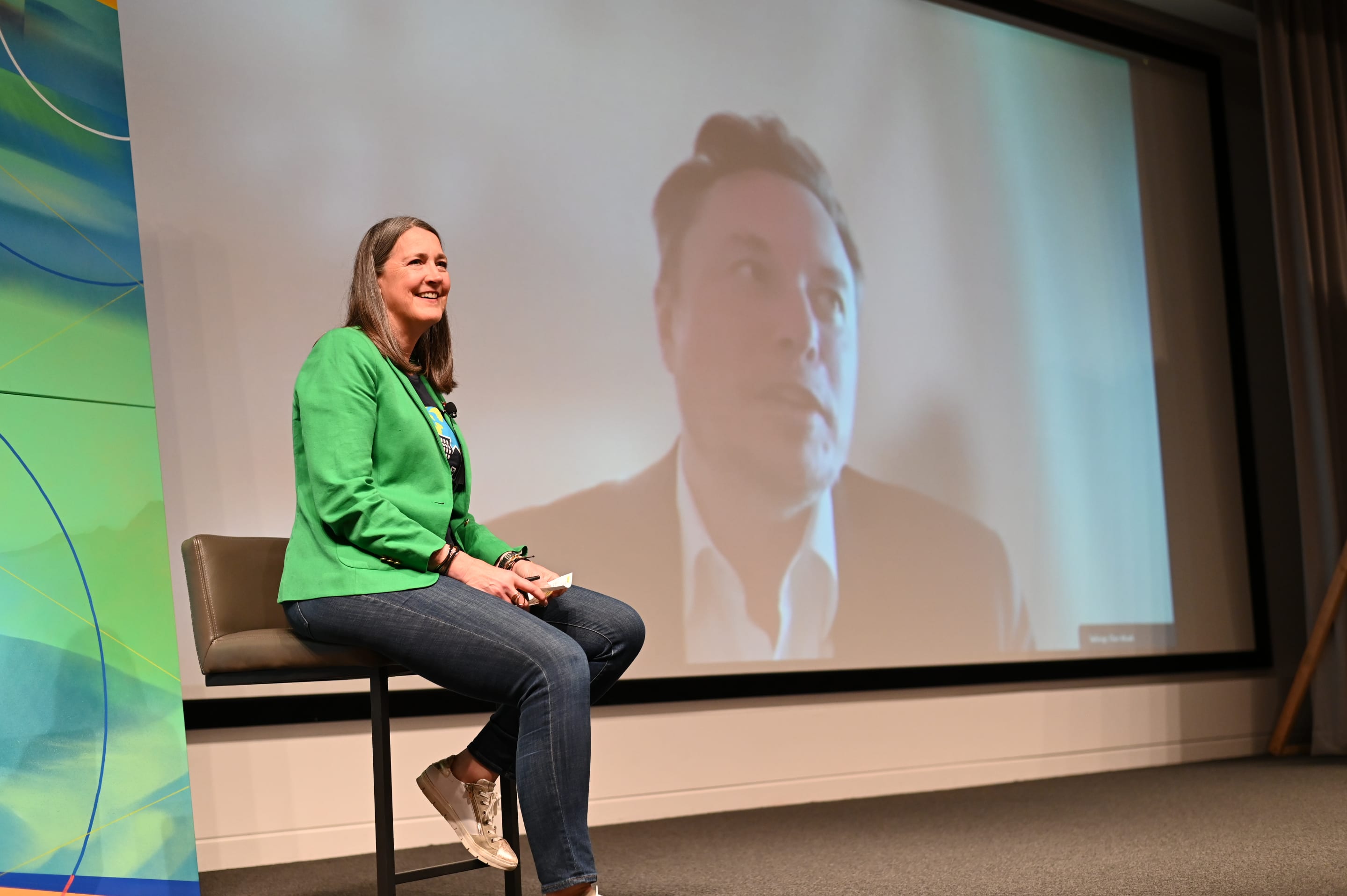 Breakthrough Thinking and Collaboration on Display at PG&E Innovation Summit 2023
Join us and spread the word to your community
By Paul Doherty
Stakeholders from around the world and across industries gathered for PG&E's first-ever Innovation Summit today featuring a keynote Q&A with Elon Musk, Chief Executive Officer, Tesla.
Approximately 300 people joined in person and thousands participated virtually, spanning startups and corporations, national laboratories, academia, the utility industry and government agencies.
Jason Glickman, Executive Vice President of Engineering and Strategy at PG&E and Quinn Nakayama, Senior Director of Grid Research Innovation and Development, first addressed the audience providing a history of PG&E, its diverse service area, its approaches to R&D, and shared an overview of the current opportunities and focus areas for breakthrough thinking and collaboration in creating a 100% clean energy future.
Joining virtually via Starlink from a friend's wedding in Italy, Musk spoke with Patti Poppe, Chief Executive Officer, PG&E Corporation about several topics including artificial intelligence, electric vehicles, and the role of utilities and companies such as Tesla in bridging the gap between today's energy system and California's clean energy future.
Speaking about electrification, EV proliferation and decarbonization, Musk foreshadowed the magnitude of the challenges facing the grid and the importance of continued integration of distributed energy resources.
"In order to satisfy the needs of electrification, electricity output needs to triple. That's just in America. It could be 10x growth in India or elsewhere. We need to tackle this from all angles," Musk said. "Generally, leaning in the direction of solar and wind combined with storage is the right approach. That is happening. We're headed to a good place, but whatever your forecasts are for demand, they are probably too low."
When asked by Poppe what utilities can do better or more of to successfully collaborate, Musk pointed to a need to move swiftly in executing the right projects, in the right places, when they are needed.
"Recalibrating expectations for electricity demand — we have to move much faster and bring the timescale of projects in sooner and have a high sense of urgency. There's insufficient urgency," Musk said.
"We have to have a grid that is ready for the demand that electrification will bring, with a regulatory framework and with a team focused on change," Poppe responded.
The event included a panel moderated by Heather Rock, Senior Director, Strategy at PG&E and featuring Leslie Rich (Senior Consultant, Loans Program Office, U.S. Department of Energy), Rob Chapman (Senior Vice President, Energy Delivery and Customer Solutions; Chief Sustainability Officer, Electric Power Research Institute) and Ron Snedic (Senior Vice President, Corporate Development, GTI Energy).
The group delved into the topic of increasing collaboration.
"The way we do innovation is changing — because that's what innovation is: It's change. It's disruption. It's rethinking the status quo. And that's what today is about: rethinking how we do innovation; creating relationships and sharing and understanding each other's ideas and then collaborating and problem-solving," Rock shared. "And we want to foster innovation for entrepreneurs and startups."
The final session of the morning featured a conversation between Poppe, Annette Clayton (Chief Executive Officer Schneider Electric North America) and Darryl Willis (Corporate Vice President, Energy & Resources Industry, Microsoft). The group announced the launch of a distributed energy resource management system that they developed and launched together.
Built on Microsoft Azure, DERMS is a cloud-based platform for integrating, analyzing, and optimizing data from distributed energy resources—like solar, electric vehicles, battery energy storage, and microgrids—to provide grid operators with enhanced communication and coordination capabilities to unlock the value of DER as flexible grid resources.   
"PG&E is partnering with the best and the brightest to deliver breakthrough solutions for our customers. Having efficient and reliable renewable energy resources integrated into the grid, with a powerful DERMS controlling and synchronizing them means that we can continue to grow the share of renewables in the grid while maintaining safe and reliable power," said Poppe. "It's a customer-focused energy solution that will bolster reliability and affordability on the path to a clean energy future."
Clayton lauded PG&E's comprehensive, cloud-enabled DERMS strategy as an example of Schneider Electric's Grid to Prosumer philosophy. "This methodology empowers utility companies to digitally transform to achieve their sustainability, efficiency, reliability, and flexibility goals. This approach to optimize distributed energy resources is agile enough to keep up with 21st century demands on the grid. A stepwise approach is key in DER implementation to effectively handle short-term goals and prepare for the long-term vision," she said.
"Collaboration is key to addressing the complex global energy challenges and achieving a more sustainable future," remarked Darryl Willis, Corporate Vice President, Energy & Resources Industry at Microsoft. "Our collaboration showcases the power of combining expertise and leveraging digital innovation to help deliver a future-ready, secure, agile and resilient grid."
DERMS offers a variety of capabilities, including: 
Real-time visibility into all DER.  
System capacity for peak summer days.
Local capacity for new service connections and interconnections.  
Reliability and resilience with energy storage.  
Integration, managed charging and vehicle-to-grid coordination for EVs. 
Read more about PG&E's collaboration with Schneider Electric and Microsoft to deploy DERMS here: https://www.pgecurrents.com/articles/3785-schneider-electric-pg-e-announce-solution-maximize-value-evs-solar-battery-energy-storage-flexible-grid-resources
The event featured several breakout sessions diving into key themes of PG&E's new R&D Strategy Report, including integrated grid planning, wildfires, EVs, supply and load management, undergrounding and gas.
PG&E also announced the opening of its Pitch Fest Application Portal with a deadline to submit ideas and applications by August 11, 2023, at 11:59 p.m.
Applications can be submitted at https://pgeinnovation.awardsplatform.com/
By August 31, 2023, select applicants will be invited to pitch their technologies or solutions at the Innovation Pitch Fest to PG&E management and subject-matter experts. Successful pitches have the potential to lead to a range of follow-on engagements with PG&E, including partnership and grant opportunities, and influence over the scoping of upcoming Electric Program Investment Charge (EPIC) 4 projects with a total budget of $83 million.
Read more about PG&E's innovation efforts at www.pge.com/innovation and read the full R&D Strategy Report here: https://www.pge.com/pge_global/common/pdfs/about-pge/environment/what-we-are-doing/innovative-community-programs/PGE-RD-Strategy-Report.pdf