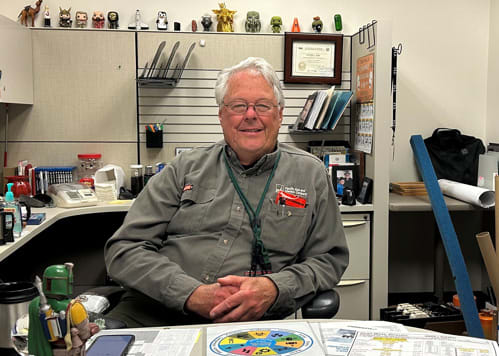 The Fun Hasn't Stopped For This 50-Year PG&E Coworker
When Steve Foat's colleagues at PG&E's Diablo Canyon Power Plant learn that he's been with the company for 50 years, the reaction is obvious.
"They look at me as if to say, 'What the heck are you still doing here?'" said Foat, a supervisor in nuclear engineering, with a smile.
So why has Foat, who joined the company as a field engineer in general construction out of Santa Rosa in 1973 and has been at Diablo Canyon since 1976, stayed?
"It's fun," said Foat of his job, where he oversees a staff of seven that's called upon when there's a developing problem at DCPP. Foat's team, known as Engineering Fix it Now (EFIN), handles some of the more visible problems that occur when the plant is online or when it shuts down for planned maintenance.
"There's always something new to learn," said Foat. "Issues come up and as things get old and obsolete, you have to replace them with new and improved things. Sometimes, you have to rebuild a system or a component from scratch.
"We're constantly learning new techniques," he added. "We pretty much get first crack at fixing things here."
Foat said the secret to his half-century longevity is there's always something to fix or a new challenge. He's proud of the times his teams helped PG&E save money or outage time. "I have an excellent group of people working with me," said Foat of his staff. "They're appreciative that I've put in as many years as I have.
"I've learned the secret to success is to ensure you have competent people working for you and you treat them as best you can," added Foat, who worked with fellow Nuclear Engineering Supervisor Rob Martin in hiring for their teams. "We looked for team players when we interviewed people, because if someone fails, we all fail."
Foat also knows how to have work-life balance, which is reflected in his passion for science fiction, particularly Star Wars. Visitors to his cubicle can see a display of Star Wars figurines sitting atop the walls. In addition, Foat has spaceship drawings pinned to the walls, along with boarding passes from NASA for a future flight to Mars and certification that his name is etched on a NASA space craft which landed on the planet.
And on his desk, there's his daughter's wedding photo depicting the bride and groom running from Star Wars all-terrain walkers. Let's also not forget the framed family portrait with everyone in superhero costumes.
Sounds like Foat, whose favorite Star Wars movie is the first one from 1977 ("I went to the theatre and saw it a dozen times") and lists Hans Solo ("He's a bit of a rogue who likes to have fun") as his favorite character, is having way too much fun. But like everything else, all good things must come to an end. Martin will miss Foat when the time comes.
"It's like having an older brother to bounce ideas off of," said Martin, who's nearly 20 years younger than Foat. "Not having him around is going to be hard."
"I'll be here probably through the end of 2025," he said. "But I'm a little bit of an engineer and I like round numbers. Since I started at Diablo Canyon in 1976, maybe I should just stay 50 years. But at least I'll be here through the end of 2025."
(NOTE: Special thanks goes to Colette Joyce, an instructor at the Diablo Canyon Power Plant, for contributing to this story.)