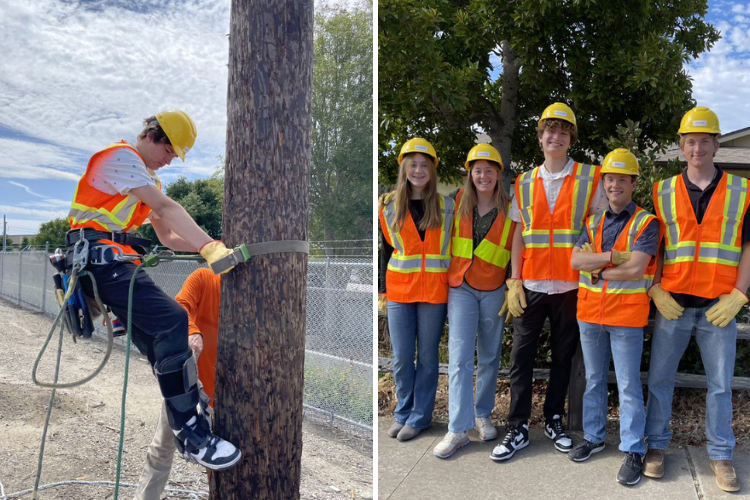 High Schoolers Participate in Weeklong Summer Internship Program with PG&E Coworkers
By Carina Corral
Seniors from Templeton High School visited the bustling Los Padres service area, as they shadowed PG&E coworkers and learned about the wide range of career possibilities our company has to offer.  
"The PG&E employees were all genuine and friendly, excited to see us, and fully prepared to help us learn as we found our way. The company has definitely figured out how to keep their employees happy, and it shows in their productivity," Templeton High School senior Colette Daulton said. 
On the Electric side of things 
During the week of July 17, the students were at job sites from Paso Robles to Grover Beach, seeing first-hand and getting hands-on experience, as crews de-energized lines and replaced a transformer, engaged with police officers and firefighters during routine and emergency work, removed a tree as part of our vegetation management program, and performed a demonstration on our interactive electrical and gas board. 
"I had not known much about what an electrical engineering career might look like, but getting to meet the employees there and seeing the software they used helped me form a much better understanding," Templeton High School senior Tatyana Ilieva said. "I like that there were many different locations to visit. The tree cutting job was also cool to see and I am grateful for Tammy Wise's willingness to let us watch and to explain the importance of those kinds of jobs."  
On the nuclear side of things 
The students also spent time with coworkers at Diablo Canyon Power Plant (DCPP), touring the 750-foot turbine building where the state's largest source of clean energy is produced, spending time with the members of the DCPP administration team and hiking the DCPP lands with PG&E's environmental stewards. 
"My favorite experience was going to Diablo Canyon Power Plant and seeing all the different people that work there, as well as the monumental machinery and buildings. It was truly inspiring to see the incredible engineering and effort it takes to generate energy and power California," said Templeton High School senior Ben Redd.  
DCPP's Cybersecurity team also showed the group the important aspect of their work to keep the plant safe from cyber threats, which proved to be beneficial to a few of the students who have interest in this field. 
"I really enjoyed talking to senior electrical engineers and cybersecurity analysts and supervisors at Diablo Canyon, as I'd love to do executive work with a software cybersecurity aspect," senior Caden Matuszewiz said. 
About the program 
The summer internship program was made possible by the National Energy Education Development (NEED) Project, which, through programs like this one and others, encourages students interested in engineering, science, economics, environmental sciences, law, geology, and a host of other disciplines to have a role in the energy industry.  
"I could write a book about how powerful it was to take students around to meet employees representing a broad range of backgrounds and careers. We had a great time each day taking students to see different divisions and workplaces and hearing about employees' career paths," Barry Scott, NEED state program director, said.  
"I think that all teens should do something like this when looking for a career or pathway. I came into this week fully hooked on engineering but now I am overwhelmed with potential pathways. I have grown a great interest in PG&E and I'm 100% going to pursue a pathway with the company," senior Cyrus Cook said of his time in the Los Padres region.
This program is just one of the many ways PG&E is investing in the next generation of utility workers and showing them the many career opportunities awaiting them at PG&E. NEED and PG&E also partnered on an internship program in the Central Valley region and PG&E held a Career Fair at Rancho San Juan High School in Salinas for 500 students.  
"I really enjoyed representing the company at the job fair! We did not have anything like this at my high school with regards to actual companies showing support and opportunities to young people. It was a great way to show young people that PG&E offers such a wide range of career opportunities with or without a college degree," Javi Contreras, Gas supervisor in the Central Coast region, said of the event in Salinas.