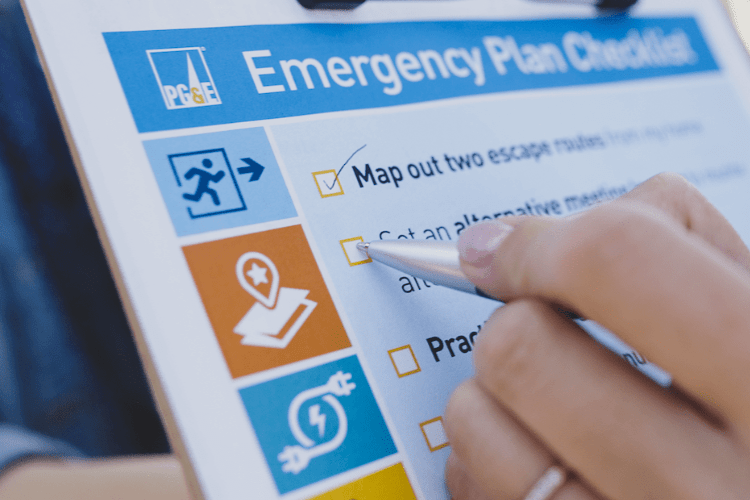 PG&E Kicks Off National Preparedness Month with Important Reminders Focused on Wildfire Safety
By Denny Boyles
September is National Preparedness Month, and PG&E reminds its customers that being prepared for the unexpected has never been more important.
National Preparedness Month is an observance each September to raise awareness about the importance of preparing for disasters and emergencies that could happen at any time. Recent emergencies, including the wildfires in Hawaii and Canada, the magnitude 5.1 earthquake in Ojai in Ventura County, and Hurricane Hilary, which prompted the first-ever tropical storm watch in Southern California, remind us that being prepared is critical to keeping safe.
Peak wildfire season in the western United States also begins in September, and having an emergency plan, reviewing it, and sharing it with family and friends is essential.
As part of National Preparedness Month, PG&E is sharing tips on preparing your home and family for an emergency, ways to help seniors prepare for disasters, and advice on how to respond to disasters that occur when you are away for home.
"At PG&E we prepare, train and practice emergency response every day. We make sure we have the tools and plans we need before disasters strike so that we can respond safely and quickly. We want our customers to be prepared as well, no matter where they are when an emergency happens," said Angie Gibson, PG&E vice president, Emergency Preparedness and Response. "Although National Preparedness Month provides a good reminder, proper planning and preparation is a year-round necessity and that's why PG&E offers resources for our customers every day."
PG&E's Safety Action Center (safetyactioncenter.pge.com) is an online preparedness resource, that provides information to help customers keep their families, homes and businesses safe during natural disasters and other emergencies. You start your preparedness month activities by making a checklist of planning goals:
The Safety Action Center has many more tips, including specific sections to help you and your family be ready before any emergency.
More resources are available
Ready.gov has tools and resources to help you and your family prepare emergency plans for yourselves, friends and neighbors.
The American Red Cross, redcross.org, also offers many tips to help prepare and respond to emergencies.
Cal Fire's Ready for Wildfire page offers tips on creating emergency plans, tools to track wildfire incidents, and guidance on following evacuation orders should they be necessary.