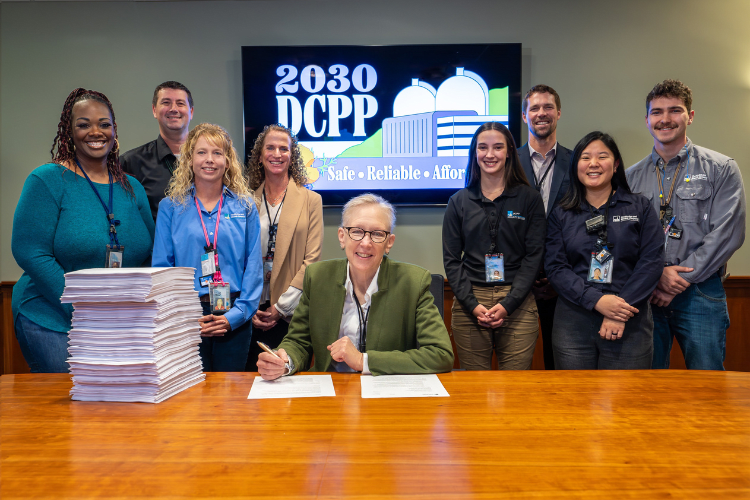 In Line with State's Direction, PG&E Requests Federal Extension of Diablo Canyon Power Plant Operations
AVILA BEACH — In line with state law and the Governor's direction to ensure electrical reliability across California, PG&E on Tuesday (Nov. 7) filed a License Renewal Application with the Nuclear Regulatory Commission (NRC) seeking to extend operations at its Diablo Canyon Power Plant (DCPP). The facility is the state's largest power plant and producer of clean energy, generating enough carbon-free electricity to meet the needs of three million people.
"PG&E is committed to answering the state's call to ensure the continued operation of the facility and safely deliver affordable, reliable and clean energy for California," PG&E Corporation Chief Executive Officer Patti Poppe said. "Diablo Canyon is a treasure and tremendous resource for the state, as well as one of the safest operated nuclear power plants in the nation. We are pleased policy makers see the value of DCPP. It would be a great honor to continue serving California for as long as the state supports the operation of the facility," Poppe added.
In Sept. of last year, Gov. Gavin Newsom pushed to keep Diablo Canyon open and signed Senate Bill No. 846 (Dodd) into law, which directed PG&E to pursue the extended operations of the massive energy facility, located near Avila Beach in San Luis Obispo County, to 2030. The governor and lawmakers took this step to ensure statewide electrical reliability and combat climate change as California continues toward its clean energy future. The current operating licenses for Units 1 and 2 would otherwise expire in 2024 and 2025, respectively.
"Diablo Canyon Power Plant is safely generating clean electricity 24 hours a day, seven days a week, 365 days a year, rain or shine. We have a dedicated workforce that is committed to operating DCPP with integrity and safety at the forefront. We're all excited for the opportunity to continue serving the state and help power California's clean energy future," Diablo Canyon Senior Vice President and Chief Nuclear Officer Paula Gerfen said.
In compliance with federal regulations, PG&E's license renewal application includes general, environmental, and technical information about DCPP. Once the NRC determines whether the application is sufficient for its review, a multi-year evaluation process will begin, which includes ample opportunities for public feedback and involvement. Under federal regulation, DCPP will continue to operate until the NRC has taken final action on PG&E's application.
Rigorous safety oversight
PG&E is committed to the highest levels of safety, performance, and security at DCPP. The plant has an excellent safe operating record and is subject to rigorous regulatory oversight, including with respect to seismic safety.
All plant operations are overseen and monitored by the NRC. The federal oversight agency assesses DCPP safety regularly, including two inspectors who work on-site and spend an average of 3,500 hours on inspections each year. The NRC's current annual assessment places DCPP among the highest performing plants in the nation and continues to find the facility is operating safely and meeting industry-established safety and performance objectives.