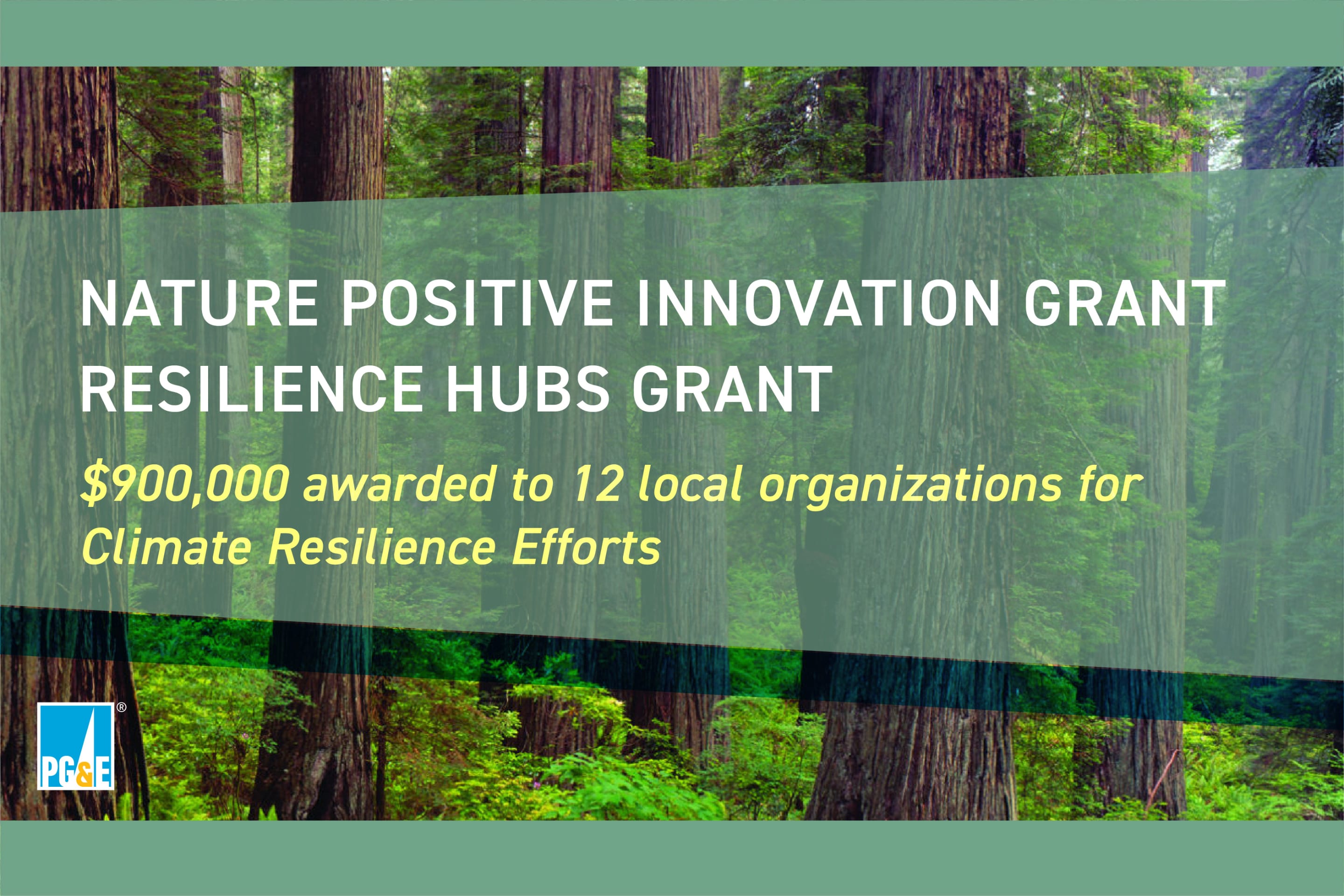 12 Local Organizations to Receive $900,000 in Grants for Environmental Stewardship and Climate Resilience Projects
PG&E and The PG&E Corporation Foundation Grant Programs Support Climate Action Key Investments for Local Communities
By Tracy Correa Lopez
Building upon a long history of climate action and environmental stewardship, PG&E and The PG&E Corporation Foundation (PG&E Foundation) have awarded $900,000 through two grant programs to support climate resilience efforts in PG&E's hometowns, while also protecting and restoring land, water, and air in habitats and communities across California. Both grant programs prioritize projects that address the needs of disadvantaged and/or vulnerable communities.
Through the Better Together Nature Positive Innovation grant program, the PG&E Foundation has awarded $500,000 to five grantees — one in each of PG&E's five regions — that preserve California's unique biodiversity, focusing on land, air quality and water stewardship.
Separately, through the Resilience Hubs grant program, PG&E is providing $400,000 to seven grantees to support communities in building a network of local climate resilience hubs.
"At PG&E, we're committed to partnering in new and creative ways to build resilience to the impacts of a changing climate, as outlined in our Climate Strategy Report. We're excited to work with these leading organizations to increase climate resilience, while also supporting equity within the hometowns we are privileged to serve," said Carla Peterman, Executive Vice President, Corporate Affairs and Chief Sustainability Officer for PG&E Corporation and Chair of the Board for The PG&E Corporation Foundation. 
Better Together Nature Positive Innovation Grants
As one of the largest landowners in California, PG&E has a long history of responsible stewardship of the natural environment. Through the Better Together Nature Positive Innovation grant program, the PG&E Foundation is reinforcing its focus on environmental stewardship and investing in partnerships that will protect and restore land, water, and air in habitats and communities across its service area.
For 2023, the Better Together Nature Positive Innovation grant program has awarded five $100,000 grants. These grants are funded by The PG&E Corporation Foundation, charitable donations come from PG&E shareholders and other sources, not PG&E customers.
The following organizations are this year's Better Together Nature Positive Innovation grant recipients:
Middletown Rancheria of Pomo Indians – developing and implementing a project to protect native plants and animals on tribal land in Lake County.
Maidu Summit Consortium – focusing on management, education and outreach related to gathering materials for native Maidu basket-weaving, including promoting, protecting, and preserving sacred plants in Plumas County.
Marine Science Institute – working with underserved students through the Discover Our Bay program to learn about the San Francisco Bay Area's watershed connection to the ocean and possible impacts of climate change.
Farm Discovery at Live Earth – advocating for regenerative farming supporting biodiversity, water conservation and regenerative farming practices through student and community-based collaboration in Santa Cruz County.
Little Manila Foundation – promoting awareness in South Stockton of pollution impacts on health and creating sustainable community solutions.
"Receiving the Better Together Nature Positive Innovation Grant represents a crucial step in empowering our organization to educate residents about pertinent air quality concerns and equipping them with mitigation tactics in an engaging and culturally sensitive manner, ultimately contributing to the protection of public health and the well-being of the South Stockton community," said Dillon Delvo, Executive Director, Little Manilla Rising.
Resilience Hubs Grants
Recognizing that communities across California face growing threats from extreme weather events such as coastal and inland flooding, heat waves, wildfires, and more powerful storms, the Resilience Hubs grant program seeks to fund and establish physical spaces, or a set of resources, that support community resilience in the face of these climate-driven events. Once developed, these hubs can also be accessed year-round to build and sustain community-adaptive capacity in a trusted location.
For 2023, the Resilience Hubs grant program has awarded $400,000 to the seven organizations listed below. These grants will be funded by PG&E shareholders as part of the company's investments in statewide wildfire resiliency and response, in accordance with a mandate from the California Public Utilities Commission.
The program awarded $25,000 each to four Feasibility Projects to fund an assessment of resilience hub needs and/or conceptual ideas for a resilience hub:
African American Network of Kern County – building a comprehensive disaster preparedness plan, conducting risk assessments, and establishing communication systems to ensure the timely dissemination of information and instructions during emergencies.
California State Parks Foundation – studying the feasibility of establishing a resilience hub in Candlestick Point State Recreation Area and building a methodology for establishing resilience hubs at parks statewide.
City of Oakland – conducting community engagement around developing a resilience hub in East Oakland.
Willow Creek Youth Partnership (DBA Dream Quest) – assessing the resilience needs and partners for a future community youth center.
Additionally, the program awarded $100,000 each to three Design and Build Projects toward the design and/or creation of a resilience hub. Through these projects, the organizations will either plan and design new physical spaces or mobile resources, or retrofit existing buildings or structures to support community resilience:
Community Organized Relief Effort – collaborating with Allen Temple Baptist Church in Oakland to further develop a resilience hub for vulnerable communities.
Mariposa County – designing and conducting site development of a community resilience hub that simultaneously supports local climate change adaptation, recreation, and economic development objectives.
Playhouse Arts/CUNA (Communidad Unida del Norte de Arcata/Community United of North Arcata) – designing and building a resilience hub including backup power, filtered air, coordinated communication, food and water distribution, and disaster preparedness training.
"Dream Quest is thrilled to have PG&E's support in helping to plan for the new Community Youth Center's emergency response capacity and development of community resiliency.
Multiple disasters have highlighted and compounded the Greater Willow Creek area's vulnerability to climate hazards, resulting in emotional and socioeconomic impacts. The Community Youth Center is an opportunity for community members to turn their shared trauma into action towards community resilience," said Trish Oakes, Executive Director, Willow Creek Youth Partnership (DBA Dream Quest).