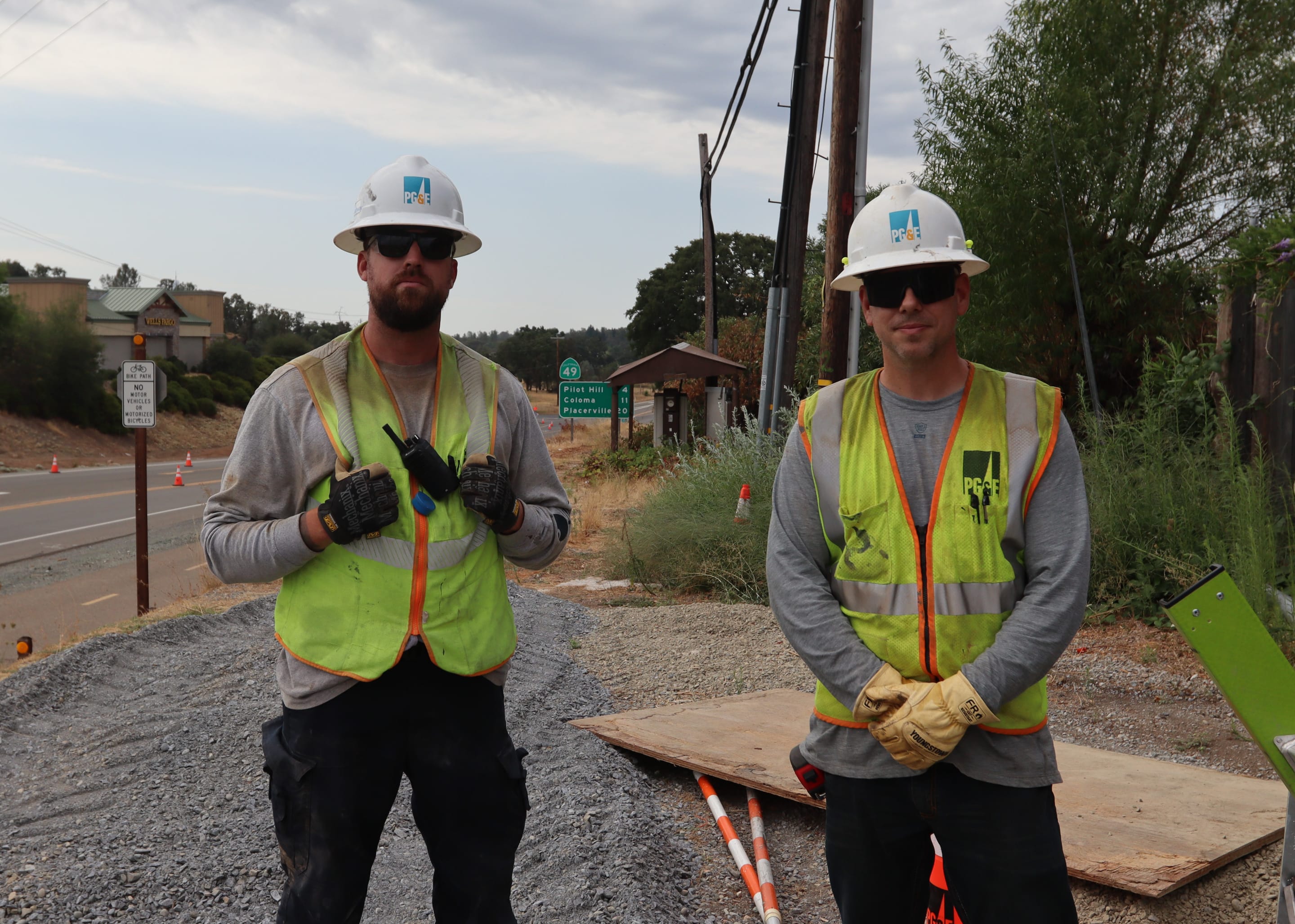 Two PowerPathway Grads Helping Their Communities by Working on the 10,000-Mile Undergrounding Project
When Jason Freedlander (pictured on the right) moved to Rocklin from the East Coast a few years ago, he wasn't familiar with California's wildfire tragedies and their impact on his new home.
"I'm from Virginia. I learned about the wildfires when I moved out here," he said. "It was very tragic. I wanted to do something to help."
So Freedlander, who's a staff sergeant in the U.S. Air Force Reserves, applied and was accepted into PG&E's recent PowerPathway Entry to Gas Operations for Veterans training program. The 20 students who participated in the cohort were not only active or honorably discharged from the military, they also had to live within 150 miles of the Elk Grove training site.
For eight weeks, students were taught skills in excavation, joint trenching and traffic control flagging. Upon graduation in July, all were guaranteed job placement by IBEW Local 1245 as Hiring Hall utility workers and traffic control flaggers. Since graduating, they've been in various locations supporting PG&E's 10,000-Mile Undergrounding initiative by doing trenching, placing conduit underground and traffic control flagging.
Freedlander has appreciated the opportunity to serve his community.
"Serving my country in the Air Force is very fulfilling," he said. "When I got out of active duty, I wanted to have the same feeling. Serving my community is just as good as serving my country. Hopefully, what I do here can help impact the community."
First-Hand Experience
Freedlander's classmate Donald Emerson (pictured on the left) has lived in Auburn for nearly two years. The former U.S. Navy petty officer third class saw how weather can impact a community's access to power.
"Last winter, we had snow take out some power," said Emerson. "Doing this huge undergrounding project is going to prevent us from losing power in future storms."
Like Freedlander, Emerson appreciates being of service to his community. "I loved serving my country," he said. "This opportunity is just right for me to amplify on that a little bit more."
PowerPathway Led the Way
For both men, PowerPathway opened the door to a new career path. They're now among the 1,200 graduates of the program since it started 16 years ago. More than 600 of those graduates are military veterans.
"If I didn't have PowerPathway, I wouldn't be here right now," said Freedlander. "It prepares you for the job. You can jump in with both feet and you're ready to work."
For Emerson, who had no background in construction, "PowerPathway gave me the tools to make me feel more comfortable knowing what I was getting into."
Justin Real, PowerPathway principal program manager, takes pride in seeing graduates on the job. He works with PG&E's functional areas to create training programs, interview prospective students and maintain relationships with the community-based organizations who assist PG&E with the training cohorts.
"It's obviously the best part of my job," said Real about seeing PowerPathway graduates at work. "You see what it took each person to get there. The eight-week, free, unpaid training isn't a sprint, it's a marathon. 
"During the program, it can be very stressful as a program manager too," he added. "You're teaching during the day and on your breaks jumping on a conference call or helping a student with their classwork.  Then at night you're responding to emails and preparing lesson plans for the next day.
"But it's all worth it," concluded Real, "when you see the students graduate and start working for PG&E."
"When I see PowerPathway graduates working in the field beside me, I know they have great training," said Jasmin Hardy, a construction operator working with Freedlander and Emerson and a 2018 PowerPathway graduate. "It gives me a sense of comfort. I'm honored to work with PowerPathway graduates."